Before you even start weighing the pros and cons of a .co vs .com website, you need to understand what's the benefit of each TLD and if they are the right domain extensions.
Buying a domain could be confusing, especially when people have been stressing over domain extensions like .co and .com and trying to figure out what suits their domain better. 
In this blog post, we would be comparing .co vs .com and finding what would be the right choice for your website and find the significance and success chances of both these domain extensions.
So, let's start with an example.
Suppose your domain name is 'roadtoseo'. As soon as you search for the same, you would be shown a variety of domain extensions like .com, .co or (dot)anything.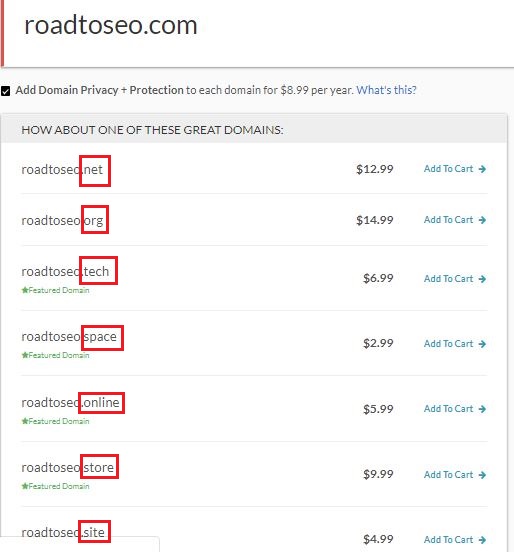 So, how do you choose between the different domain extensions?
Websites are differentiated on the basis of their domain extensions. These allow a user to visit a page/website on the internet. 
Talking about the new domain extensions, you'd be amazed to know that there are 280 domain extensions as of 2020. 
But out of these hundreds of options, let me mention the important ones.
Sites ending with .com

are meant for commercial purposes.

Sites ending with .biz

are meant to classify businesses.

Sites ending with .org

are meant to classify organizations.
Websites started to have different extensions in the middle of the 1980s. The .com domain extension started to become popular right with the origin of websites.
Since then, a lot of websites started to pick the .com extension. This gave the .com extension enough traction and it soon became the most popular domain extension globally. 
As of now, 48% of the websites globally are registered with the .com extension.
But what about the .co extension? 
Let's go back a few years to understand the origin of the .co domain extension.
The Origin of .co domain extension
Here's a small history lesson for you.
The .co domain was first introduced in 1991 and was registered for Columbia. 
This means that a .co domain could be registered for Columbia-originated websites.
However, with time, it was moved towards generic TLD names where extensions like .com, .net and .org were already present. 
Then in 2010, GoDaddy took an effort to dilute the .co domain extension in the mainstream domain extension types. 
And the reason was to get more sales.
With a different option of a domain extension, it was possible to sell more domains for GoDaddy. Turns out it wasn't a bad decision after all as now, you can register a domain name with .co extension anywhere in the world and from any domain registrar.
Another important reason behind this was that .com extensions are usually hard to find for most of the domain names now. 
Now with an extra domain name extension, you are likely to find the domain name of your choice.
.co vs .com: Which is the right domain extension?
For this segment, we are going to use a few factors to find the right domain extension for you.
When I bought dothacks, I considered myself lucky to find the .com extension. However, a lot of people who are about to purchase a domain aren't able to find the domain name with .com extension, which is a bummer.
When you are in search of a new domain, chances are that the domain name you want to register for has already been taken.
If your preferred domain name is already chosen, you are left with two options:
Either ask the domain owner to sell the domain (which won't be possible in most of the cases).

Choose a new domain name

Choose a different domain extension.
Settling for a different domain extension seems like a preferable option. And in this case, the .co extension is the best option.
There are about 2 million websites registered with the .co extension which increases the chances of you finding your preferable domain.
Since our test domain 'roadtoseo.com' is already taken, let's try finding the .co extension for the same.
So, I took the help of 4 domain registrars – Domain.com, GoDaddy, NameCheap and Google Domains.
Here are the results:
| | |
| --- | --- |
| roadtoseo.co (1 yr) | Price |
| Domain.com | $10.99 |
| GoDaddy | $11.06 |
| Namecheap | $7.98 |
| Google Domains | $28.35 |
On average, roadtoseo.co costs $14 among these domain registrars. 
That's pretty much the same as the .com extension.
But the .co extension isn't that popular of a domain, right? So, why does it cost more?
The reason is to prevent the domain buyers to buy domains in bulk. Whenever a company or an individual purchases a domain, a few extensions are handed to him at a very lower price. 
Domain extensions like .us (which represents a domain registered in the United States) or .in (which represents a domain registered in India) are technically handed over to the buyer at a very cheap price.
However, with the .co extension, the plan is to create a market of its own rather than being an add-on. 
Since the plan with the .co extension is to enter it into the mainstream competition, it makes total sense to keep the price high to ensure its availability.
SEO is the primary concern of every domain buyer who's trying to differentiate .com vs .co. 
And here's your answer – .co extension is not a bad option when you are trying to register a domain.
Suppose you are trying to buy a domain. You want the .com extension but it isn't available. That doesn't mean you can't buy the .co extension. 
Google does prefer the .com extensions while ranking websites. However, the .co domain extensions are not buried within the SERPs, and yes, you can rank well for them. 
With great and responsive website design, you can rank well on Google. However, with the .co extension, it might take some time for you to rank on the first page of Google. 
So if you want to go for a specific domain name but can't find the .com extension, you can settle for the .co extension.
There's no significant difference between the two because, with good website design, you can also rank well. 
Pros and Cons of a .com domain
Pros
These domains are used worldwide.

Preferred for SEO purposes.

Widely used.

Perfect for most of the websites.
Cons
There are a lot of registered users.

Domain names are hard to find.

Could be expensive in a lot of cases.
Pros and Cons of a .co domain
Pros
More domains are available. 

Appeals more to a tech-savvy audience.

Usually treated the same by search engines.
Cons
Could be expensive at times.

A lot of work is needed to rank the sites.
You might already be clear of the fact that there is no significant difference between .co and .com domain extensions.
As such, there's no major downside you are going to face with your .co domains in the long run.
Just try finding a .com extension for your domain and if you don't get that, settling for the .co extension won't be a bad choice either.