Watching videos on YouTube has become our new favorite thing, especially at this time of the pandemic. 
YouTube on the other hand also provides an array of features, both to its creators and viewers.
However, let's focus on the dedicated features for its creators in this blog. 
YouTube creators are capable of branding their channels with the help of a branding feature, called the youtube watermark, or a custom subscribe button.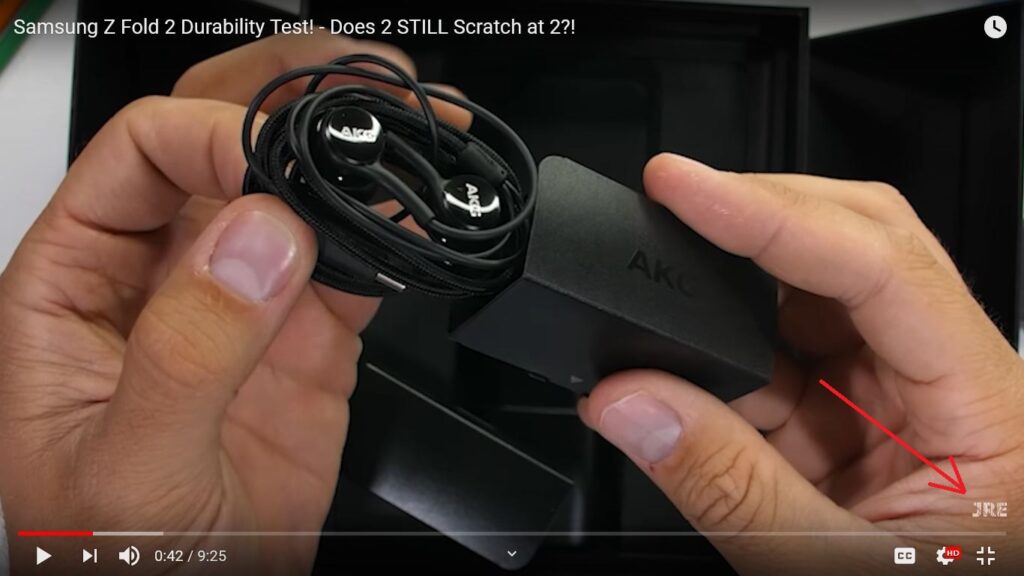 The Branded YouTube Watermark
YouTube is known for its abundance of features. Every now and then, there's an update that makes the entire website better than before.
However, a common and continuous feature is the YouTube Watermark, something that you may see on almost every YouTube channel.
This watermark allows a viewer to subscribe to the YouTube channel they are watching without even having to close the video and subscribe to the creator as everybody else does.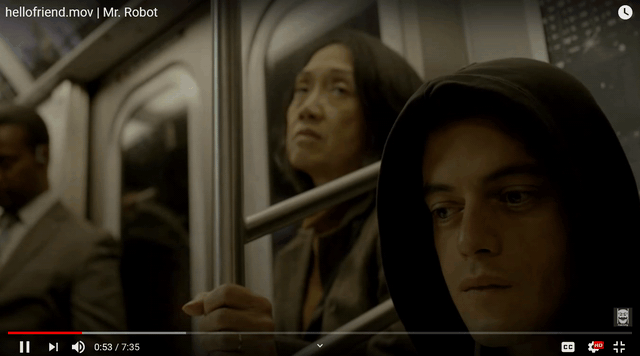 This branded watermark is usually the logo of the channel that's placed at the corner universally. 
Since it's a customizable feature, it could usually take a search for creators to figure out how to add the same feature to their channels.
As such, I will be showing you exactly how you can add a branding watermark to your YouTube videos without much of a hassle.
How to choose a branded watermark?
A lot of YouTubers have the same watermark in their videos as their display pictures. This is very common and really doesn't matter a lot, since it suits the video and doesn't look distractive at all.
That still doesn't mean a watermark can't either be poorly visible or so distracting that it hinders the viewer from time to time.
Choosing a Transparent/Solid Background
If you ever go to YouTube's branding guidelines, you can clearly see that they recommend using a watermark with a transparent background.
Before you start weighing the pros and cons, just understand that the choice is totally up to you. 
If you want a minimal watermark that doesn't distract your viewers, using a transparent background is a good option.
On the other hand, if your plan is to get more conversions in the form of subscriptions from your videos, you can definitely settle for a solid background that could be easy to view throughout the video.
Choosing a channel logo
A significant number of YouTube creators use their channel logos as the watermark for their videos. This isn't bad as long as your logo is so distinct that the viewer could actually understand who you are and would even subscribe.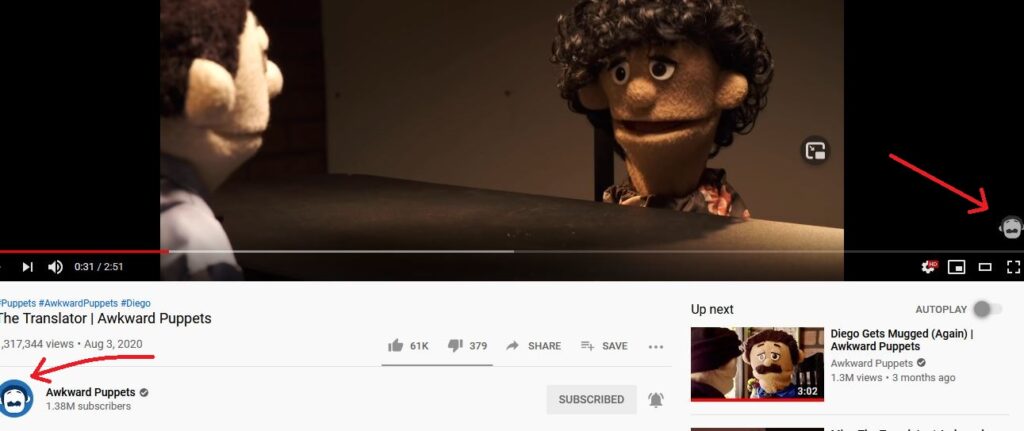 Channel logos are a good display in order to familiarize your audience with the creator. 
However, a lot of your viewers don't even know that these watermarks are clickable. 
Another downside is that these logos aren't even clickable on mobiles.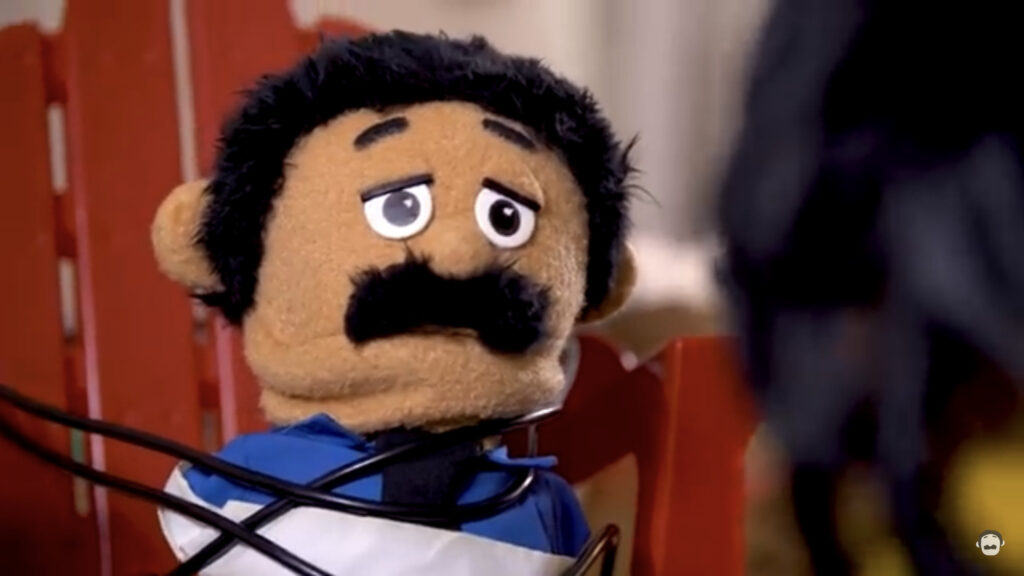 Since most of the viewers access YouTube through their smartphones, you are giving away a lot of subscription options.
Choosing a "Subscribe" button
As such, there's a common ground that you can find, which involves adding a 'Subscribe' watermark to your channel.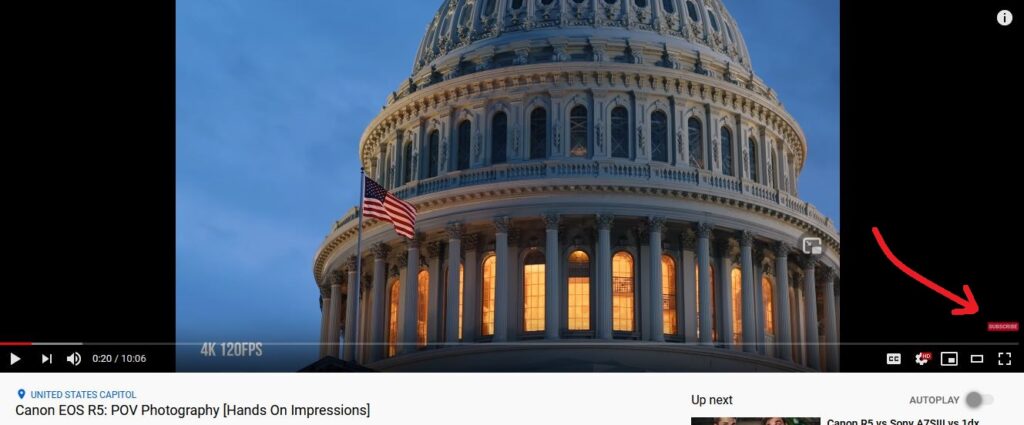 If you plan to get more subscribers, this is a great approach.
The significance of adding a 'Subscribe' button is that it reminds a viewer that they should subscribe to the channel as well. 
Most of the viewers rely on YouTube's recommendation system to binge-watch videos from their favorite creators. And since most of the viewers prefer watching these videos in full-screen, they won't even bother to enter the normal screen and subscribe to your channel.
To make it easier for them to check out your channel in the future and subscribe, you can definitely include a "Subscribe" logo as your video watermark.
Pro-Tip 🔥 – Choosing between a channel logo or subscribe button watermark is up to you. So is the case when it comes to choosing between a transparent and solid watermark. If you are worried about distracting your viewers with your watermark, you can definitely choose a transparent one. However, if subscriptions are what you consider, you should use a solid watermark.
Coming to the main part of the blog, how do you add channel watermarks to your YouTube videos?
How to add branding watermark to YouTube?
Now as you have already decided what kind of watermark would suit your YouTube account, it's time to use it throughout your videos.
Step 1: Sign in to your YouTube Studio account.
Step 2: In the left menu, click on Settings.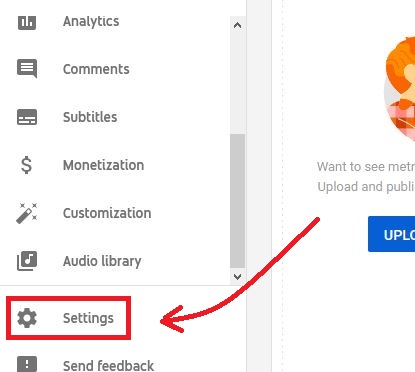 Step 3: Click on Channel and head over to the Branding section.
Step 4: Now is the time for you to choose the image that you want to add as a branded watermark for your YouTube videos. Click on Choose Image and select the image that you want to make the watermark.
Step 5: As you select your watermark, you also have to choose when you want to display the watermark. I will tell you about the "Start Time" in the next section.
Step 6: As you are done, click on Save and your branded watermark would now be visible across all your videos. 
This concludes our guide on adding a YouTube channel watermark. However, there's one important aspect of this process – the Start Time. Let me tell you about that!
Choosing a start time for your branded watermark
YouTube is kind enough to provide us the option of choosing exactly when our branded watermark should be displayed.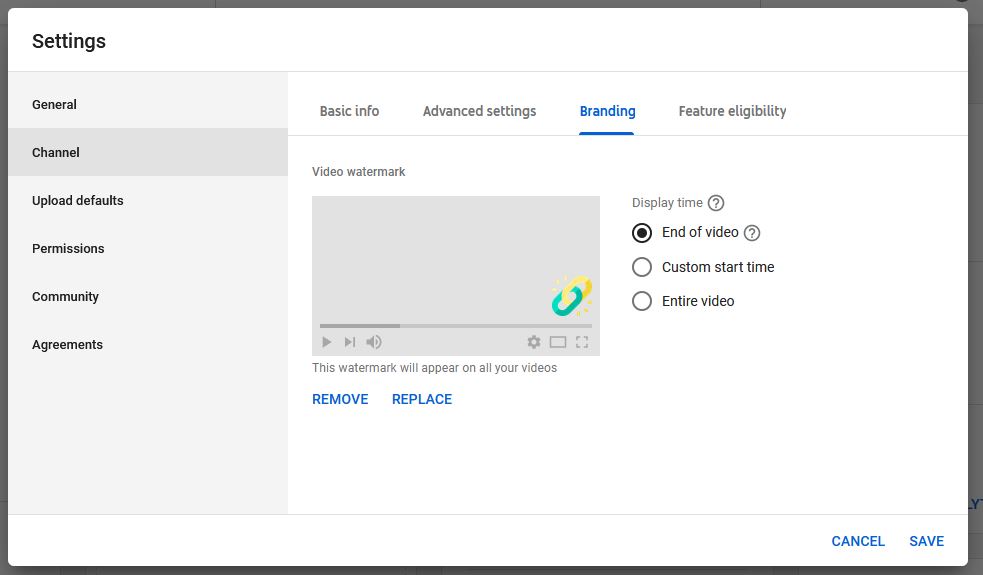 Before you settle for a display time, understand that the setting you choose applies to all the videos on your channel. And while there's no ideal time that you can choose, I always recommend you follow either of the three settings:
Make it appear at the end of the video – This option is pretty self-explanatory. If you feel like your branding could distract your viewers, go ahead and add the branding watermark at the end of the video. That way, the audience will only be able to see the watermark towards the end of the videos.
However, this option really doesn't play a significant role, because most of the viewers close the video anyway before it reaches towards the end screen. So, I recommend you choose either of the two options below.
Make it appear throughout the entire video – If you have a simple watermark that you want to be displayed right from the start of the video, choose the "Entire Video" option. This allows your watermark to be shown to all the viewers from the very beginning. 
Add branding after the intro – Adding your watermark after your intro is a good idea. The reason is that since you display your intro at the very beginning, there's really no use of displaying your brand watermark at the start since the intro is doing that job for you. After the intro is played, then you can add the watermark.
One thing worth noting is that if you have an intro that you are sure will end after certain seconds, like 15 seconds into the video, you can choose "Custom Start Time". However, if your intro timings change from time to time and you are really worried about the display of branding at the right time, then this option might not be right for you.
This was all about branding your youtube channel. Now, ask away in the comments section.
If you are new here at Dothacks, we recommend joining our mailing list. We share exclusive stuff with our members including coupon codes to our products, early access to blogs, new blog updates, very personalized tips, and even giveaways.
Follow us on Instagram for similar, interesting content!