With its growing fame and number of users, WarriorPlus is something that has been in the hot waters for a while. But why?
So far we know WarriorPlus is an affiliate network meant for both, advertisers and publishers.
So why has the WarriorPlus marketplace been torn to shreds with bad reviews all across the internet?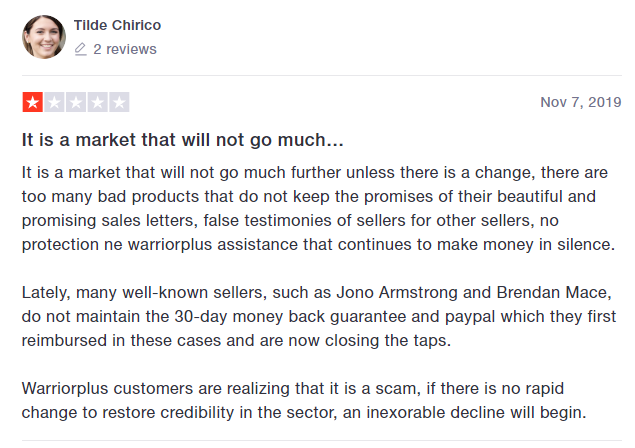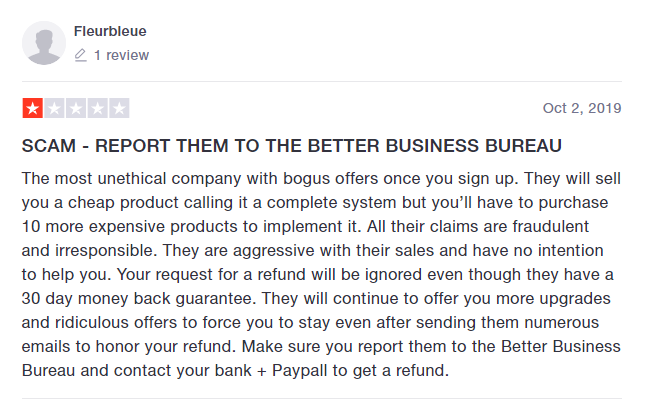 What is all the fuss about? Let's take a look.
WarriorPlus and Affiliate Marketing
Before we talk about the authenticity of WarriorPlus, let's take a step back and understand what affiliate marketing really istry to understand the situation.
Just like almost every other affiliate network on the internet, WarriorPlus is also an affiliate network that brings publishers and advertisers together.
Affiliate Marketing is a common method of generating revenue for bloggers and content creators across the internet.
To understand affiliate marketing in brief, here's an example:
Let's say a guy named 'James' is a blogger and has a good amount of daily, organic traffic on his blog.

To start a new revenue stream, he decides to sell additional products on his website.

Lack of the right resources makes James decide to sell an advertiser's product for a particular amount of profit on every sale.

The advertisers, on the other hand, get their products sold by multiple means.

This kind of product promotion is called affiliate marketing.
Affiliate marketing, just like every other method of earning online, is a simple process where both the publisher and the advertiser get mutually benefited.
Just by call tracking, the affiliates could be credited only by referring a customer to a merchant.
So, where did WarriorPlus go wrong?
WarriorPlus: An Overview
By the looks of it, WarriorPlus seems promising. They even claim the following features on the platform:
Top-quality products to promote
A great sale- analytics tool
Countless vendors
But when you dive deep, you find hundreds of vendors that seem fraud or misleading from the very beginning. The entire platform seems fishy.
As soon as we signed up, we were bombarded with exactly
1774 notifications
.

Secondly, there's no history of the past products or sales about the seller. The seller's picture and details might be mentioned, but there's no sufficient information regarding the credibility and past experiences of the publishers with the advertisers.
There's no review button, which could actually be one of the primary reasons publishers fall for scams and spammy products here.
Another concern among the publishers is whether the product they are going to advertise would be relevant to their audience or not because the same isn't mentioned as well.
You also can't find any cost-per-lead in warriorplus, which makes it really difficult for publishers to pick the best affiliate networks they could sign up for.
Is WarriorPlus Legit?
Despite most of the negative reviews and one-star reviews you may find on the internet, WarriorPlus is legit!
WarriorPlus has been around for long and if it were a scam,  it would have been shut down a long time ago.
Factors like a 30-day money-back guarantee for any kind of product that you buy on the platform.
In case you don't like a product that you have bought, you are eligible for a refund within a time period of 30 days. This counts for every product on WarriorPlus.
One thing worth noticing though is that the refund request that you place isn't placed directly before WarriorPlus. Rather, it goes to the vendor, and he is the one who refunds your money.
And in case it isn't possible to get in contact with the vendor, you can also contact the WarriorPlus support who would likely sort out all these issues for you.
And even though WarriorPlus might claim to be an authentic affiliate network, but the number of spam profiles, fishy products, and other scammy deals just ends up ruining its credibility.
WarriorPlus has its own pros and cons. Even though it is not a scam, you still have a lot of reasons to be careful before buying or promoting anything from WarriorPlus.
WarriorPlus – Pros and Cons
WarriorPlus is a real deal, actually! There are a lot of 'good' products that you can market and earn money off of them.
If you know how to market a product and have the right audience for it, you can easily earn a lot of money from WarriorPlus in a matter of days.
You might want to apply some heavy filters before you get the right products because there are a lot of low-quality products that are nothing else but a money-grab.
Promoting such products on your own network (or just a lot of affiliate products and links), like your website, not only harms the reputation of your brand, reduce your audience, but also blacklists you from search engines.
Here's what Google says about the use of excessive affiliate products on your site.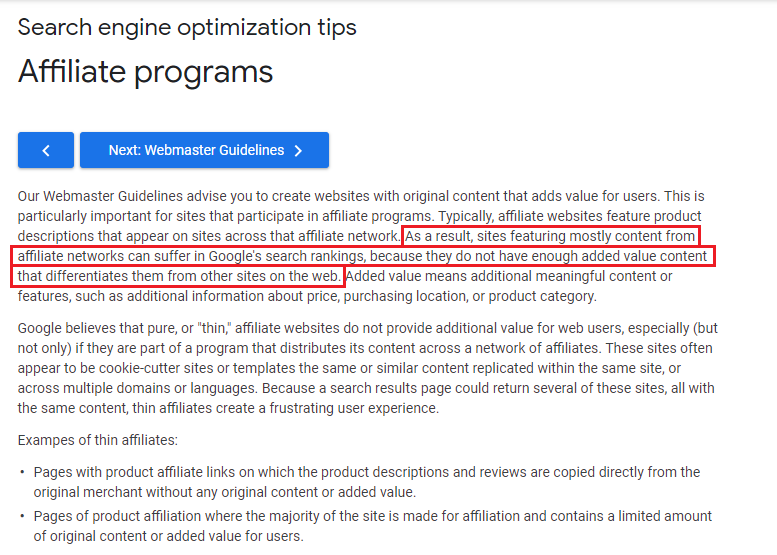 To keep your website SEO-friendly, On-page SEO would help, but you also might want to keep affiliate products limited rather than marketing them over and over, without even considering if they are legit or just some scam deals.
With that, here are some of the major pros and cons of WarriorPlus.
Pros
There are a lot of good products to market (You just have to find them).
You get instant payouts rather than waiting for completing thresholds.
It's very easy to get started on WarriorPlus, both as an advertiser and as a publisher.
WarriorPlus offers extended support (usually) on refunds in case your vendor doesn't.
Cons
There are more scam deals here than there are genuine products.
There's no filter to stop fake products from being published on the site.
Some affiliate programs require prior affiliate sales to be approved.
There's no dedicated support for advertising.
People usually face issues with refunds or vendors.
How to make money with WarriorPlus?
You can get started with making money on warriorplus easily. There's not a lot to do, but you have to be very careful in every step.
Let me tell you.
Making money on WarriorPlus could be done in the following 4 steps:
1. Choosing an interest
There are different categories of products available in the warriorplus marketplace that you can choose from.

Some of the popular categories available here are:
Marketing education
Entertainment
Industries
Software
Online platforms
Domains and websites
There are also different sub-categories within these categories so that you can find the specific interest you want to.
2. Building a website
A website is like a store where you can place the affiliate products and your readers could check out that product. It is more like a middle ground between a product and a consumer.
You can promote the products through different means as well, yet it isn't usually considered appropriate.
It could also be through different mediums like blogs, yet most of the publishers usually prefer websites; because it's easy and provides mutual benefits, both to the advertisers and the publisher.
3. Getting visitors
'Most' of the affiliate networks don't actually care where your traffic is from.
There's only one driving factor – sales!
This means that even if your traffic is inorganic, whether you are using social media to get more visitors or any other method, you can still get paid. Your traffic could be organic as well, it doesn't really matter!
However, I recommend you only start affiliate networking once you have a good amount of traffic. If you are still struggling with getting more visitors to your website, excessive ads or product sales might not just be the right options yet.
4. Earning Revenue
There are two ways to get paid on Warrior Plus – PayPal and Stripe.
After you fill out the necessary details before getting paid, you can usually get instant payments.
However, if the amount isn't able to go through, it still remains in your WarriorPlus wallet that you can deduct any time you want.
Pretty easy, right?
FINAL THOUGHTS
WarriorPlus isn't a scam. It's just a platform that doesn't know how to keep scammers at a bay and promote genuine products.
There have been a lot of thoughts, reviews, and statements both in favor of WarriorPlus as well as against it, which eventually gives it a questionable reputation.
There are a lot of bad products and money-grab deals going around. But if you want a reputable website of your own that doesn't have space for deals that cheat your consumers, it's recommended to reconsider getting affiliate deals from WarriorPlus.
The whole point is to filter through hundreds of bad deals in order to find a good one. And if you feel you can do that, might as well give it a try!