The business trends change every now and then. What was considered fresh and beneficial some time ago is now considered outdated. A lot of business owners rely on the traditional methods of doing business, yet people like you who are reading this blog post feel the need for a change. That's why I would introduce you to some of the best virtual phone system for small business 2020.
Not a long time ago, having a phone service for your small business was a pretty hectic job. You needed to have a consultant for the sake of configuring the entire system. 
A lot has changed now, yet you still need to make some choices when you want some of the best virtual phone service for small business.
Your business has a serious need of having a fully-built website (most of the time) and a voice-over-Internet-protocol (VoIP). Or you can have something more traditional, totally depending on your preferences and needs. 
And when I mention needs, try to settle with the services that depend upon:
The size of your business team

Queries that you receive on a regular basis.

The requirement for your working model.
Best virtual phone system for small business 2020: Why do you need it?
Imagine this – You have a business of your own. You would want everything to look and be professional, right?
Right! I do admit that you can just put a regular phone number for the sake of your customers to contact you. 
To be honest, that doesn't seem professional at all. First of all, you won't be able to contact effectively and second, it won't look professional at all.
And since you want the best for your business, I recommend you get a business phone service for your small business. 
Adding a dedicated phone service to your business allows you to:
Never miss an important call.

Set a hotline for customers.

Look thoroughly professional.

Track call duration, call times and other such important information.

Offer instant support and provide dedicated services on the go.
What features should the best VoIP phone service have?
When it comes to choosing a phone service for your business, there is an abundance of options available. You can easily get confused among these services as each one of them seem appealing and worthwhile. 
That's where I'll help you out.
It goes without saying that your phone service should be connected to the internet. This allows the company owners to control and operate the same phone through different devices. 
There are a lot of instances when you are unavailable to operate within the office. That's where a phone service connected to the internet comes to your rescue. 
Having a dedicated phone service also allows you to expand your business and services twofold.
With that said, here are some of the things that should be present in the business phone service that you pick.
Available globally (or at least in major parts of the world.)

A reasonable price.

Simple to use.

Good quality overall. 

Automated assistants.

It should have a mobile app.
Best virtual phone system for small business 2020

Grasshopper adds a dedicated business line along with a virtual phone system for your personal phone. 
It is one of the best options for small businesses as their plans start from $26/month, which is really affordable. 
Some of the common features that you get in Grasshopper are web and mobile apps that help you be in contact with your consumers any time, anywhere. 
Whatever standard features you are looking for, you will find them here. Some of the most significant features that you would get at Grasshopper are:
It provides a professional communication line for your business. 

The option of custom greetings and extensions makes your business look more professional.

Works with your existing phone without the need for extra equipment.

Features like call forwarding, call hold music, voicemail and email transcripts are also available.

Dedicated application for you to work from anywhere.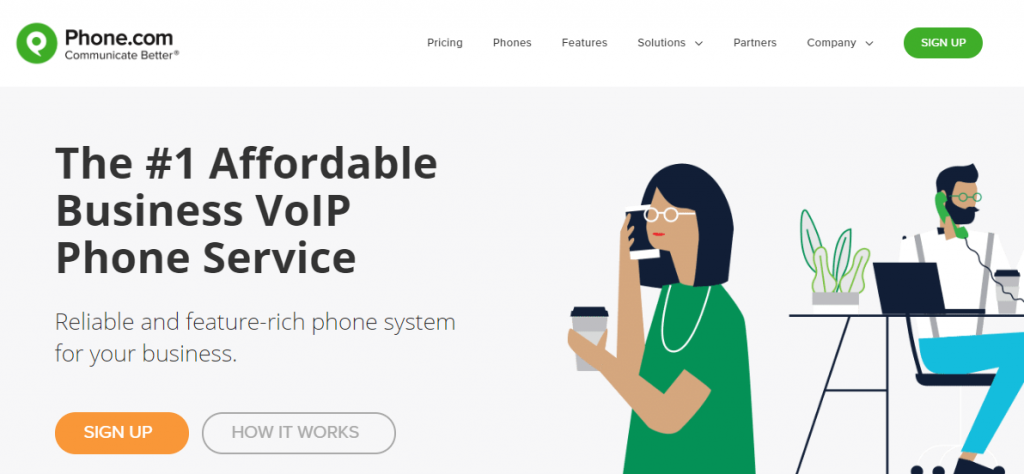 Phone.com claims that it's the '#1 affordable business VoIP Phone Service', and to be fair, it is. 
This service comes with a lot of features. It provides you with a simple dashboard that's easily manageable. If you have a small business and want to install a phone service, phone.com might be one of the best options for you.
To get started, all you have to do is to sign up for their services, choosing a pricing plan and you are in. A fully-dedicated service, that's available for you to interact with your customers 24 x 7.
Over 30,000 businesses use Phone.com and some of the main features that you might fall in love with, are:
Affordable solutions that complement you and your business.

An easy-to-setup service.

Available in different countries.

Hardware-free solutions.

Services like call recording, call forwarding, conference calling, etc. are available.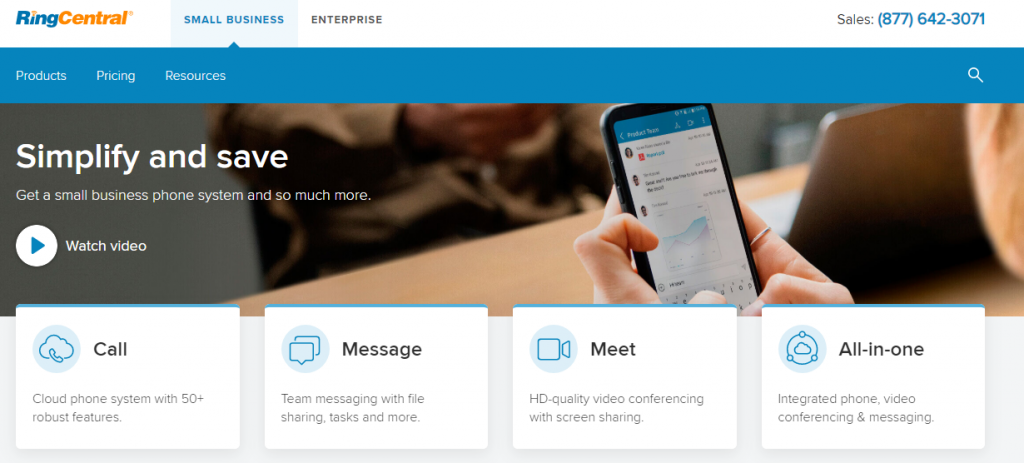 RingCentral is not only dedicated to small businesses, but it covers businesses of all sizes. About 350,000 businesses globally use this service, making it one of the most popular services.
This service is available for small businesses as well as enterprises. One of the most significant features of RingCentral is that it has a variety of plans that are dedicated to small businesses. 
Some of the other features that are pretty intimidating about RingCentral are:
On the purchase of an annual plan, you can save up to 30%.

You can maintain a single number across all your devices so that customers can reach you easily.

You can work anywhere on any device.

An easy and affordable option.

Highly trustworthy and secure.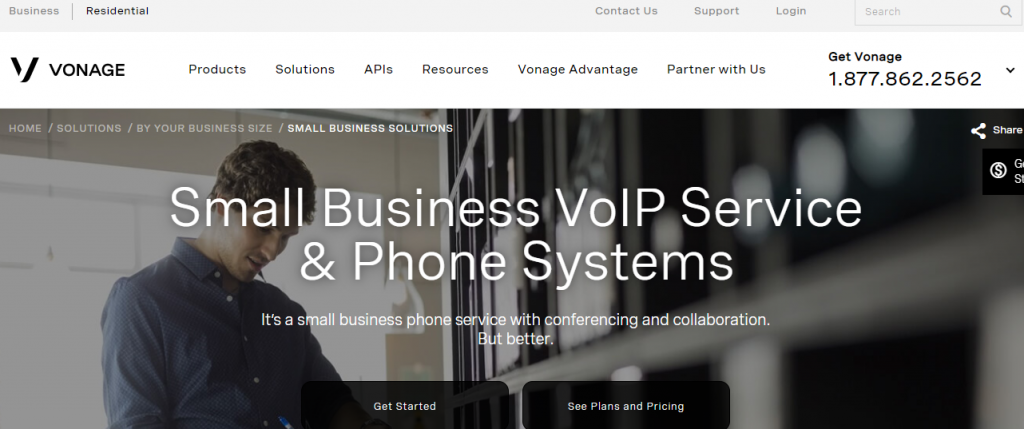 Right from the time when internet calling came into the trend, Vonage was considered to be one of the best business phone services. 
The service offered here is extremely reliable, safe and secure. 
Vonage comes with a lot of pricing plans that not only are affordable but also fulfill all your needs altogether. 
It comes with a mobile, premium and advanced plan for 100+ lines. 
Some of the most outstanding features of Vonage are:
Services like call recording and forwarding available.

Mobile access available without any hardware requirements.

Services like Amazon Chime used for integrating online meetings and video conferencing.

The same number over different devices.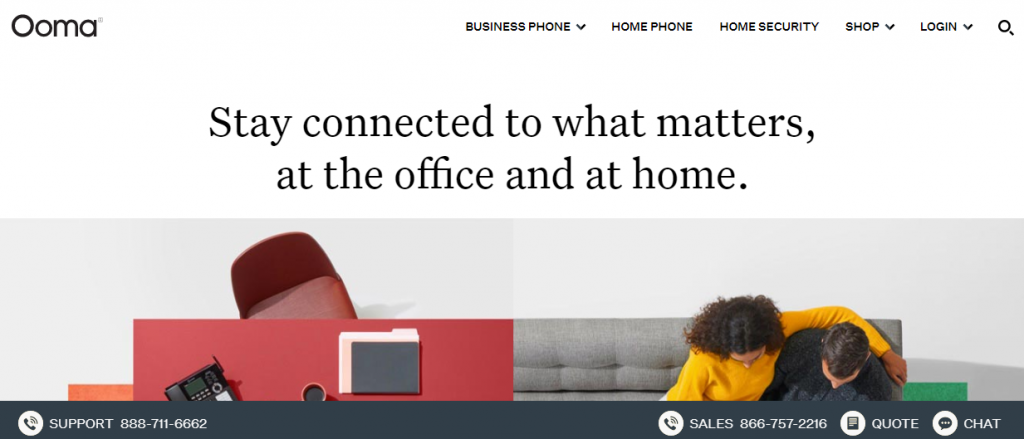 Ooma's pricing plans are dedicated to small businesses that want a full-time affordable solution.
The best part about having Ooma as your phone service is that they offer you some of the best and affordable pricing plans. The best part? You can cancel them any time you want. 
For small businesses, Ooma is a rescuer, as it has some significant features that you usually won't find in other services. Here are a few:
You can automate your incoming calls and messages.

You get a mobile app that you can use to manage your phone service from anywhere.

With their call blocker, spammy calls and texts would never be a part of your daily operations.

They have business models for open and closed hours as well.

Dedicated customer support is provided along with a free number transfer as well.
However, take note that the features I mentioned above depend upon the pricing plans you subscribe to.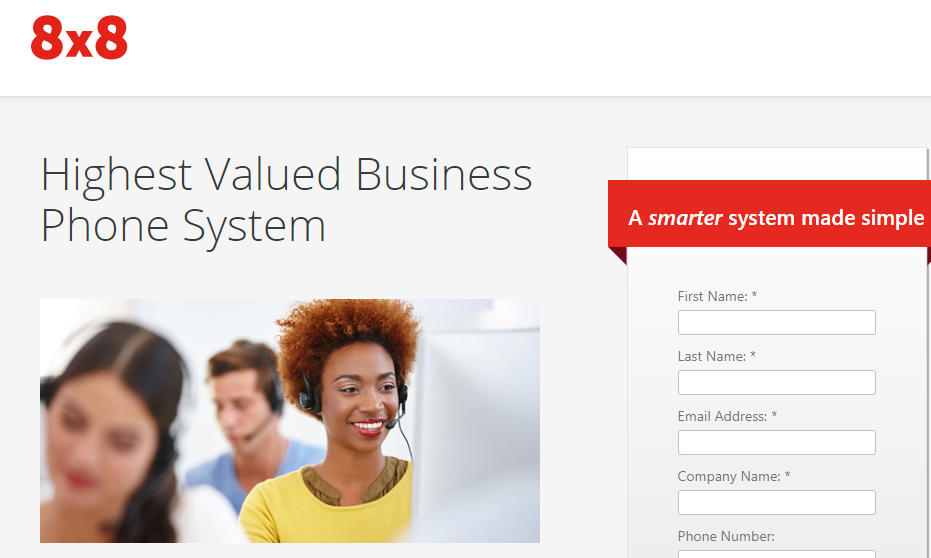 With 50,000+ happy customers, 8 x 8 is a simple solution for you that is going to support your small business all the way. The prices are slightly lower but that doesn't mean the service is the best.
8 x 8 lacks some advanced features like automatic call answer, call forwarding or automated SMS. But that doesn't mean it's useless.
If you run a small business where a lot of people don't work or a lot of queries aren't poured in, you can rely on 8 x 8 for basic phone services. 
You get a few pricing plans to choose from along with some of the additional features as well, being:
Seamless service with uninterrupted communication throughout your business.

Easy to set up without any maintenance required. 

Affordable plans for all kinds of small businesses.

A trustworthy solution.
THE BOTTOM LINE
I hope these options helped you out in picking the best virtual phone system for small business. 
Full-Time phone service could be chosen depending on the pricing plans and of course, your requirements. However, with time, there might be a slight variation in the pricing plans. 
This means that you should confirm the pricing plans and other features as well before you settle for a particular service.
Is there any phone service that you have been using and want to share with the rest of the readers? Why not mention in the comments?