The Internet has unlocked immense earning opportunities for people alike. People are earning through the best micro job sites.
The growth of online services has increased the number of careers enormously. Out of these, freelancers are the ones who have their services spread across the whole internet. 
People are involving themselves in a lot of freelancing activities. No doubt, all of us want to be our own bosses and stay away from 9-5 jobs. And in such a scenario, freelancing seems to be one of the first and most important steps towards an independent life.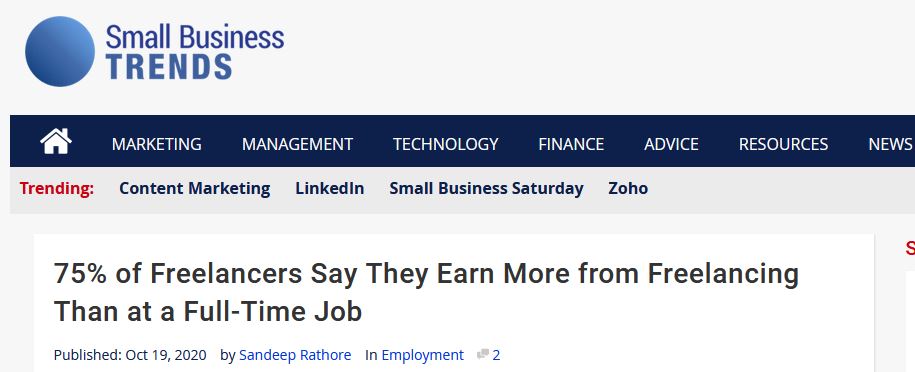 Freelancing jobs include content writing, graphic designing, editing, marketing, and a lot of other kinds of work.
Where big businesses and companies are growing twofold, freelancers are getting more opportunities to be a part of these companies, work for them (usually without any long term contract), get paid, and move on to work with other companies.
For content writers, blogging seems to be one of the easiest and most reliable ways of starting your own 'something' and make money out of it.
A lot of freelancers are active on micro-job sites that seem to be one of the easiest ways to earn money based on your skills. 
You'd come across a lot of news articles on the internet that feature the story of a freelancer and how they practically make some 'hundred thousand dollars' every month by freelancing into different markets. 
I won't question the originality of such articles right now, but I would rather stress the fact that freelancers could actually generate this much money every month just based on their skills and going to the right micro-job sites.
What are the micro job sites?
The micro job sites, also known as crowdsourcing sites, provide a joint platform for employers and workers to meet. An employer posts a job in the form of certain tasks and the freelancer is supposed to complete that. 
As a freelancer, you are free to choose the tasks that match your skills. That's the beauty of this job – you do what you are able to!
Usually, micro jobs involve small tasks that need less time to be completed. 
Being involved with micro-jobs usually pays off good eventually. A lot of people in this field are earning well and making good money. 
These sites are getting better day by day and with time, they seem promising to the people, which brings us to the next part – are micro job sites safe?
Are micro job sites safe?
'Most' of micro job sites are safe and credible.
A lot of micro-jobs sites are introduced over time. However, it takes time for them to build their branding, come off as genuine, credible, and actually stick around for a long time to be considered trustworthy. 
As a freelancer, you don't want to wait around that long. This is the main reason why a lot of freelancers sign up for websites that have been around for a LONG time and are considered credible enough. 
As long as you are sticking to these sites that are authorized and have people working on them for a long time, you are going to be fine.
Such websites are great to make money and I would be introducing you to some of them today.
Best websites to make money online through micro-jobs
Below mentioned are some of the best paying micro-job sites that let you make money by completing micro-jobs.
1. Freelancer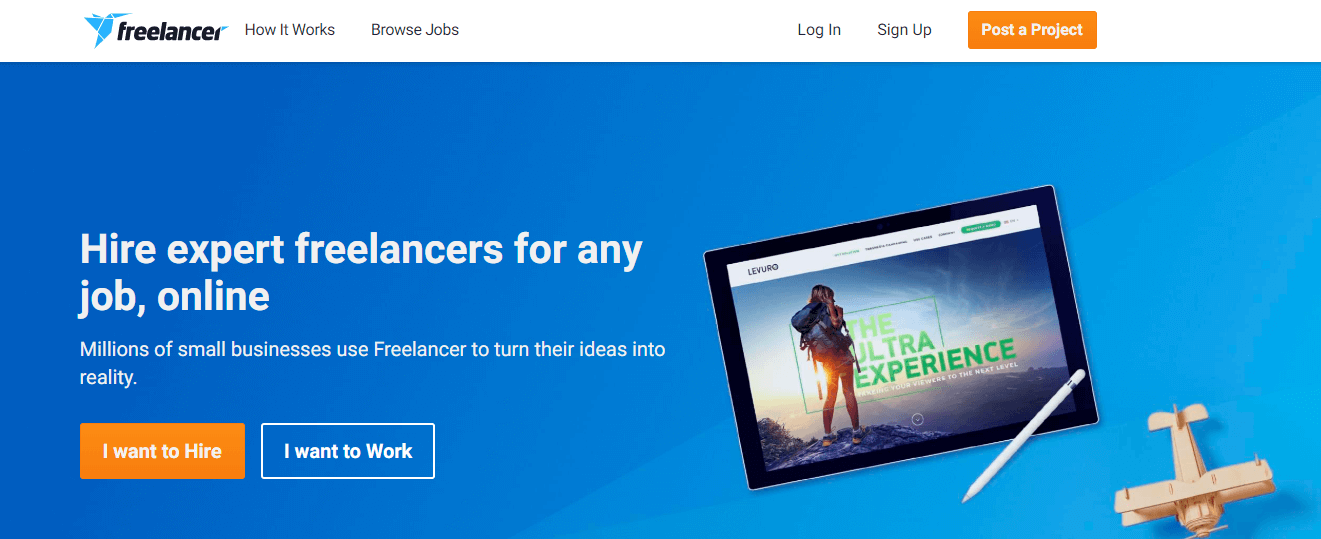 Freelancer.com was launched in the year 2009 and the website is still one of the biggest platforms for micro-jobs. 
As soon as you enter the website, you are provided with two options –
I want to hire

I want to work
Since you are looking for freelance work, you would want to click on the 'Work' option. 
Freelancer.com has more than 20 million employers and freelancers around the globe.
All you have to do is to create an account and start working.
2. Fiverr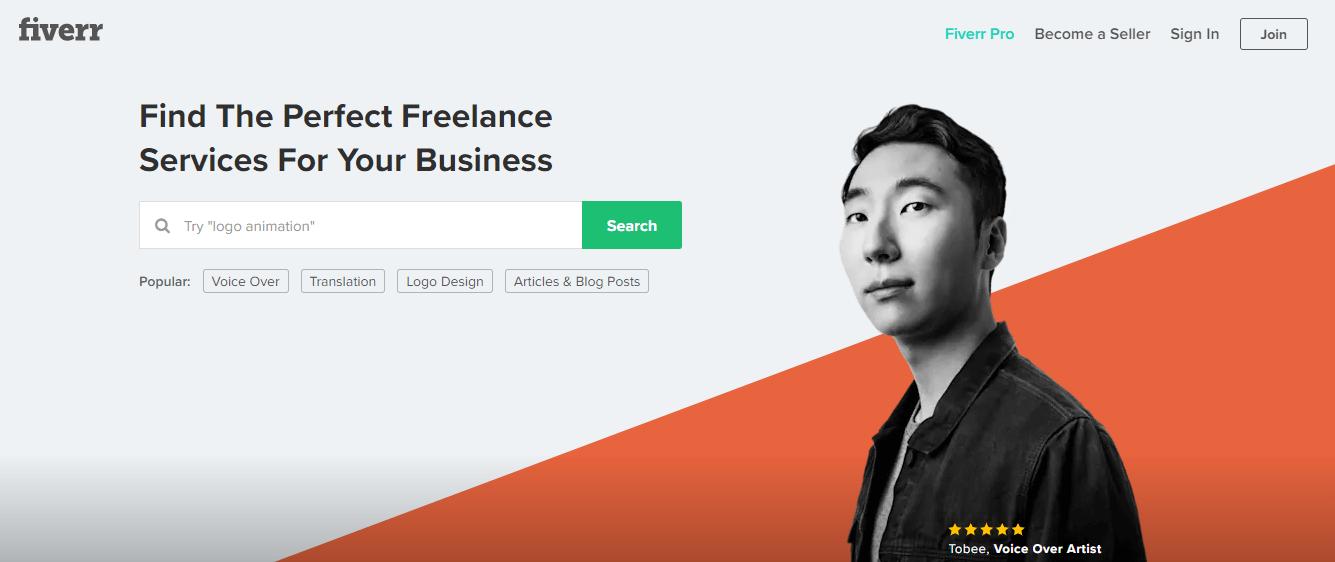 Fiverr is one of the largest freelancer networks out there. 
It is one of the best marketplaces where people sell their skills for as low as $5. If you want any of your freelancing work done as well, Fiverr could be your go-to option every time.
Fiverr calls the freelancing tasks as GIGS. This means that if you are buying something from Fiverr, you are officially buying a GIG.
Fiver is a free-to-use platform. However, through every gig that you sell from Fiverr, the site will charge $1 from you. It is similar to a commission. 
If you are a beginner in freelancing or even a professional, I recommend joining Fiverr. It is one of the easiest and safest platforms around.
3. Clickworker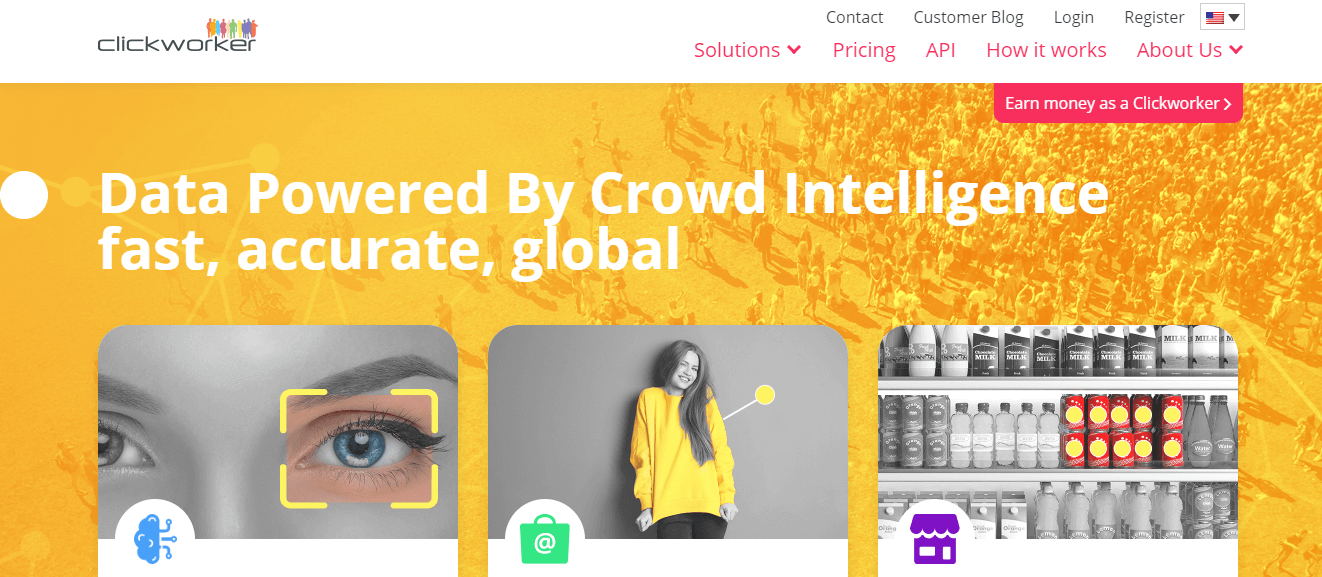 Clickworker has been an active micro job site for more than a decade with close to a million active workers from different countries.
Everybody's free to join this site. As a freelancer, you get to choose your own working hours, take up any of the assignments that you are interested in, and get paid for the same accordingly. There's no reason not to join Clickworker.
The minimum amount of withdrawal here is $5 and you can use services like PayPal to claim your money. 
4. Zeerk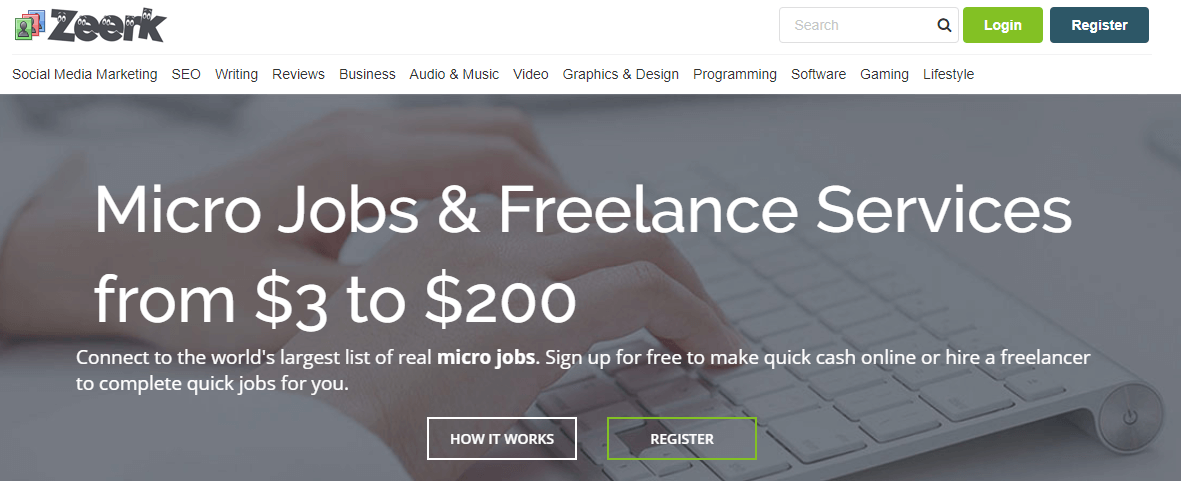 Zeerk allows you to buy or sell your services right from $3 to $200. 
One of the main features of this website is that most of the services that you find on sites like Fiverr or Freelancer for $5-$10 are available here for just a few bucks, practically under $5.
Another notable feature is that the tasks are done fast, sellers reach out to buyers regularly and vice versa. 
All you have to do is to sign up and you can start offering your services right away.
5. Crowdsource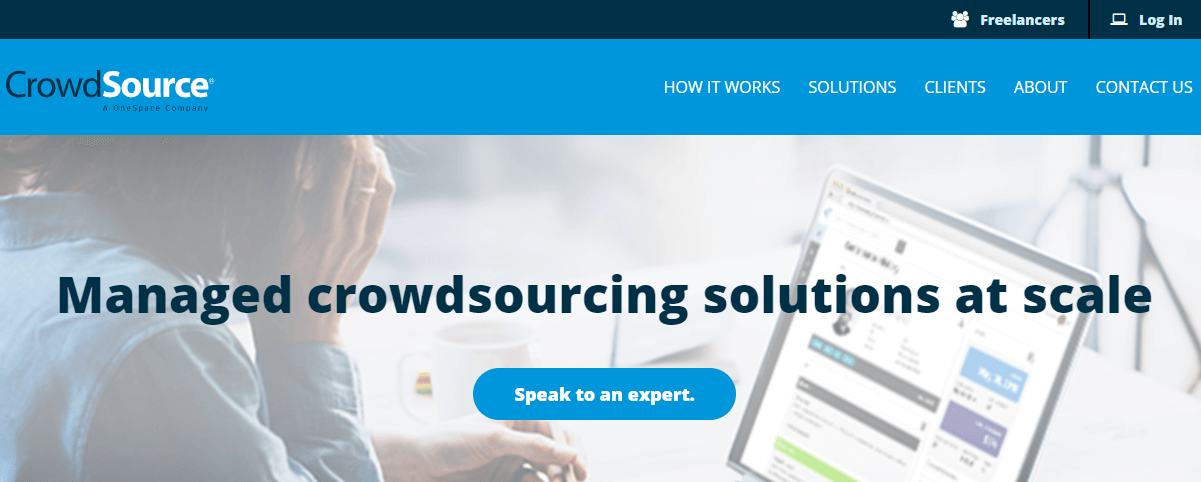 Crowdsource is a very popular micro job site. Some of the services provided here are copywriting, moderation and transcription.
Crowdsource brags more than 8 million freelancers working through that and has its services established in about 180 countries.
This website has a slightly different method of promoting freelance writers. You would have to pass a lot of qualification tests. The more you pass, the better eligible you are for more work. 
It might seem hard at first but if you stick around long enough through the dry spell, you might find gold soon.
6. ProBlogger Marketplace

For internet marketing, this is one of the best places. 
Not only can you work as a freelancer here, but you can also get a lot of insights into different aspects of blogging through their eBooks and podcasts. I definitely recommend checking them out if you are a blogger.
Apart from that, if you want guides for writing, link building, image/video editing, or anything else, this is the best place for you. 
7. SEOClerks

Just like Fiverr or freelancer.com, this website allows you to sell your service to employers around the globe. And just like Fiverr, the commission is 20% of your income, i.e. $1 in every $5.
The services offered here are numerous, that include link building, logo designing, content writing, and other common freelance services. 
All you have to do in order to sell your services is to sign up on the site and enter the details about your work. You would start getting buyers for your service eventually.
8. Amazon Mechanical Turk (Mturk)

There's no need to stress how good the services of Amazon really are. The Amazon Mechanical Turk is another service of Amazon that has been around for more than a decade now. 
The Mturk is a crowdsourcing platform that offers its services in more than 190 countries now. 
In MTurk, businesses and other product groups post a variety of tasks that are to be completed by the online workers. 
Suppose you are a freelancer at MTurk. This means you can do your job by completing the university assignments or make a presentation for them or even make a report for a company group, all based on the requirements they have.
9. UpWork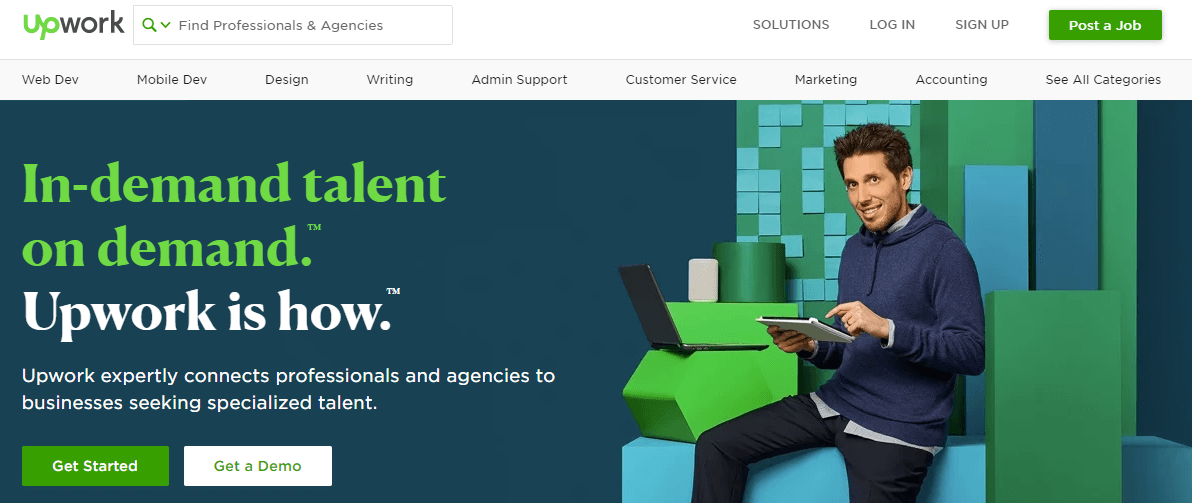 UpWork is one of the biggest micro job platforms that's perfect for buyers as well as freelancers. 
Your freelancer work is handled by experts here and you would be surprised to know that business worth of millions is exchanged regularly on this site. 
If you have a business of your own, you can hire the best freelancers here to help you out. And well, if you are a freelancer, you would get some good value for your services as a lot of leading companies to rely on UpWork to get most of their minimal jobs done.
10. Guru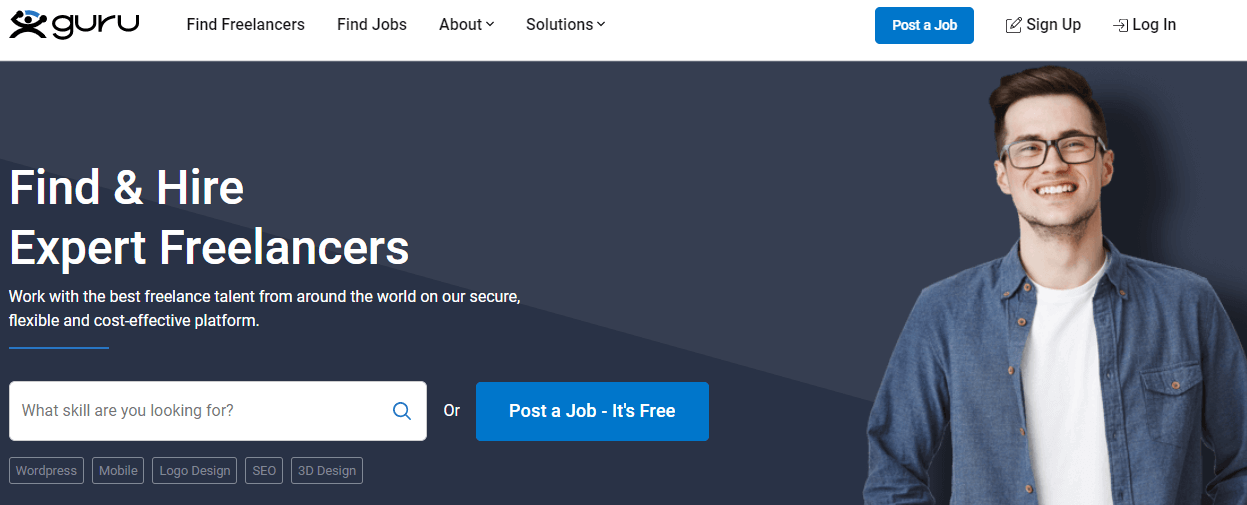 Founded in the year 1999, Guru.com is still one of the biggest platforms for freelancers. It has more than a million users globally.
As a freelancer, you can offer your services in marketing, designing, content writing, software development, and engineering. 
Take a free tip before you sign up as a freelancer in UpWork or Guru. These platforms require highly skilled writers who know what they are doing and have the experience to bear all the content related requirements. 
So if you are a beginner in your field, you might want to get your hands on some more skills before you sign up here.
11. GigBucks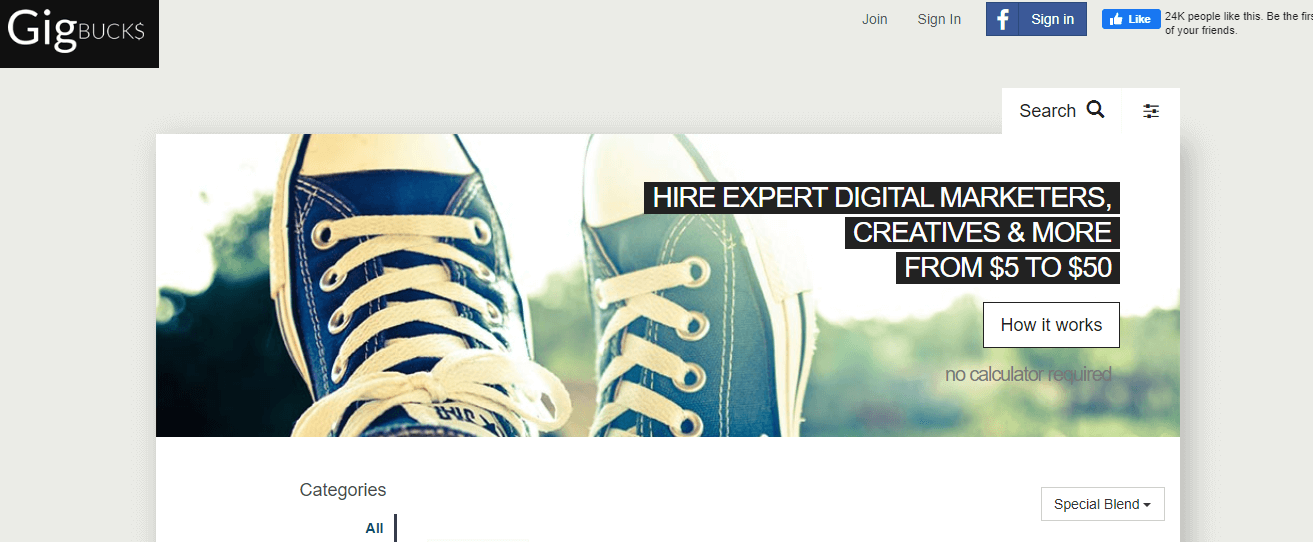 GigBucks is a great platform for starters to showcase their skills and of course, make good money out of it.
You can sell your services from $5 to $50.
You can also offer your services in internet marketing as most of the micro job sites. 
Some of the famous categories of GigBucks are advertising, photography and video editing, marketing, and writing. 
12. SimplyHired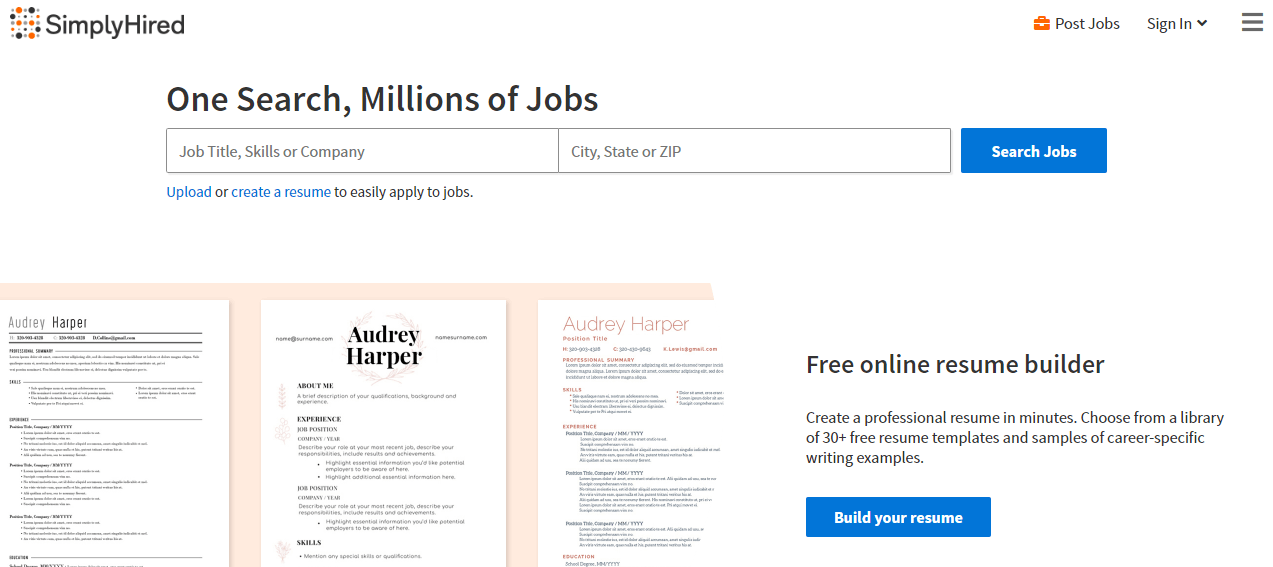 SimplyHired is a big platform. And by 'big', I mean companies are paying big bucks to get their jobs done from freelancers here. 
Content writing work alone generates $30k-$50k per year from companies at SimplyHired.
Companies from all over the world get their jobs done here and there's absolutely no reason for you to not give this website a shot.
CONCLUSION
If you are just getting started with your freelancing career, these micro jobs sites are the best options to get started at and earn money.
I have seen a lot of people who work full time on such micro job sites and manage to generate a good amount of money. And not only is this a part-time thing, but you can also offer your services full-time, make a lot of money and skip the dramatics of a 9 to 5 job. 
And while you are at it, try to contact and network with people who can help you make a presence on these sites. Go through tutorials on how to make your profile visible to everybody over such sites. 
If any of you have worked on any micro job sites, I would love to hear some of your stories down in the comment section below.