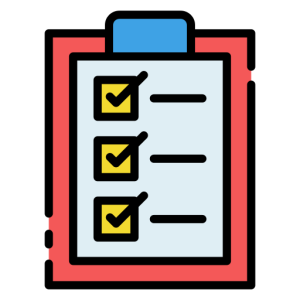 Google has always been unpredictable over its policies when it comes to ranking websites in the search results. While a particular strategy that works today might not be as effective in the next year.
However, there are a few strategies that still work and yes, On-page SEO is a part of those strategies.
'Does on-page SEO still work?'
YES! On-page SEO is still one of the best strategies to rank your content in the top results of SERPs.
Google has a whole guide for SEO that explains how important optimizing a few things within your content is to make your content relevant for specific keywords. To save you time here's a highlight from Google's very own search engine report and how it works.

With search engines getting smarter day by day, the overall quality of a website still remains one of the important fundamentals of ranking it among SERPs.
You could potentially try your hand at every possible solution to rank higher in the SERPs. But at the end of the day, you still have to convince a crawling bot that your content is top quality and fit for page 1 of Google.
And as far as ranking high is concerned, I'm sure that by the time your finish this guide, you would have known all the methods to ensure on-page SEO in your content. Who knows, you could potentially rank on the first page of SERPs, or even in the top 10.
In this guide, I'd be mentioning some of the best tactics you could implement in your content and on your pages to rank better. These tips would be explained within different sections so that it's easier for you to understand.
SECTION 1: EXPLAINING ON-PAGE SEO
Search Engine Optimization or SEO is a very broad niche that is considered to be one of the most ideal methods to rank in search results.
If the content of your website follows some of the best SEO techniques, it's no surprise that it would be featured in the search results and maybe even at the top. 
For the sake of ranking in some of the top results of search engines, website owners can ensure that they are following the best SEO practices on their own before they can cross their fingers and rely on Google to rank their sites.
These SEO practices generally are of two types: on-page SEO and off-page SEO.
What is On-Page SEO?
On-Page SEO (or on-site SEO) includes the different methods for optimizing web pages. These methods may include :
High-Quality Content.

Proper placement and use of keywords.

Keyword-inspired meta descriptions.

Headings and Subheadings.

Using internal links.

Image Optimization.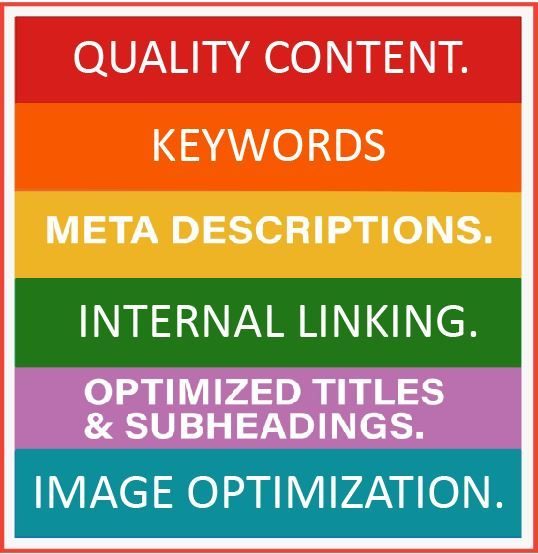 Indexing a website is not that hard. Usually, you submit your website to search console, post good content, include images for reference, do thorough keyword research, and voila! You find the content indexed by search engines. 
However, it doesn't mean your content is going to rank well. Surely, it might rank on the 3rd or 4th page of Google, but our target is page 1, right?
For that purpose, on-page SEO is followed. It's more of a quality element in your content that helps search engines determine if your content is worthy to be pushed forward or not.
With the combination of all the quality elements put into your website, you can usually outrank your competitors.
Let's say that you have an extraordinary piece of content that covers all the necessary topics. You have the right images and a catchy title. You are done with your final revision and are excited to publish it. 
You finally publish the post and check back within a few weeks? To your surprise, your content isn't in the top search results. It's not even on the first page. It's buried somewhere on the 3rd or 4th page.
Pretty disappointing, right? Where did you go wrong?
Google crawls billions of pages on a daily basis. It's obvious that no human is manually going through all these pages and approving them for search engines. 
Google works with Machine Learning integration which is a pre-determinant factor of declaring the quality of the pages. 
So what exactly does this mean?
Google is getting smarter and more sophisticated. It displays more personalized results, understands what a user is looking for, and tries to answer your queries within the first couple of results only.
On-page SEO focuses on such strategies that make your page more favorable to be displayed in the top results. The implementation of on-page SEO elements makes your content more qualitative. 
Content writers generally don't pay a lot of attention to these things, but if you do, you are likely to receive more traffic and have a far better reach.
With that said, let's understand how you could optimize your content for SEO.
SECTION 2: OPTIMIZING YOUR WEBSITE CONTENT FOR SEO
When I say 'optimize', there are a bunch of things you can do on your own. The whole takeaway, however, is that the more presentable your page is, the higher are its chances to rank higher.
There are a few elements that you need to optimize in your content for on-page SEO. 
Let's go through these elements one by one.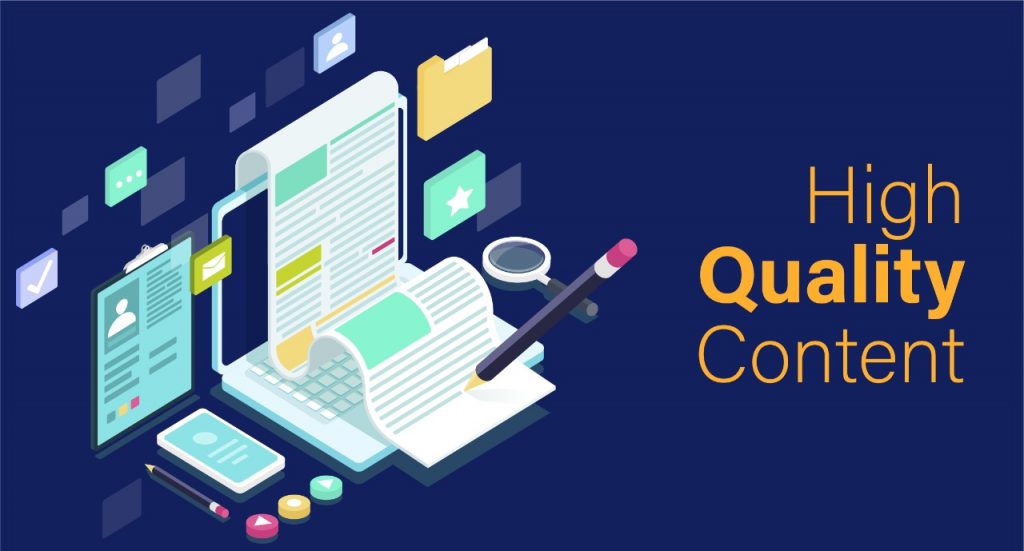 I can't stress the fact enough how important content is for your website. Content is something that defines your website. And I am talking about QUALITY CONTENT. 
Think of it like this. If your website is a car, the content is the fuel in your car. And we all know that there's no use for a car without fuel.
The better quality your content has, the more readers are going to love reading it. 
People come to your website for answers. Sure, your main focus might be generating revenue for the ads you display, but unless you don't have content that people find useful, you might as well forget about your rankings and traffic.
We all know Google doesn't like copied or content that has been spun. While once in a thousand times you might be ranked, your audience is not going to want to come back to the site again if the content is copied. You lose your credibility. 
Not just duplicate content, but I am stressing over the fact that how unique and fresh your content needs to be.
You can find ways of writing the same old content that your competitor has, but Google is now smart enough to analyse the authenticity of your content. You just can't rewrite the content somebody else has written.
So, what could be your approach in this case?
If you build your website and make it one of the best sources of information out there, try to provide something of value to your readers. Sure, you can take reference from your competitors and take inspiration from the content that they have written. But at the end of the day, your readers expect something different from you, something that they couldn't find on other websites. 
When writing content, take your own time. QUALITY IS BETTER THAN QUANTITY. Even if you are writing a couple of unique hundred words, that's always better than writing thousands of words in content that other websites have already explained better.
When you research a topic well, I recommend you take notes on your own, highlight some of the key points that you found useful to add in your content. Even if you are taking weeks together to publish new content, that doesn't matter because whatever you would be posting now would be of far better value than you posted before.
If your content has some new information, trust me, you are going to get backlinks for sure. What bloggers love to do is link credible information within their content. And if you are the source of that information, your content is going to get exposure.
How to ensure your website has quality content?
Unique and valuable content is definitely going to help you a lot. But there are other smaller things as well that contribute to quality content.
Together, these things make a completely presentable page that's going to please readers as well as search engines.
Add extra details – The use of images, videos, screenshots, infographics, or step-by-step processes is always going to help. The easier it is to understand, the better you are likely to rank. 
Think of it this way, a reader visits your page to understand a concept, process, or know more about a topic. The more information you throw his way, the more time he is going to stay on your page and come around the next time as well.
Provide updated info – As you dedicate your time writing valuable content, try to provide information that is relevant. Whatever information you add in your content, double-check it from different sources. It is a great way of becoming a credible source of information.
Use content navigation – Content navigation is a good technique to provide a quality user experience. The easier it is for your readers to find and navigate to your content, the more it is going to contribute to a good user experience.
Try adding menus to the header and categorize your content accordingly. 
I also recommend you add 'Table of Contents' on your website. For WordPress users, there are designated plugins to integrate 'Table of Contents' in your site and help users navigate within your content easily. 
Provide references – People love facts. But more than that, they love it if they come from genuine sources. When you write content, try to provide references to the information you are adding. These references could include linking to the information, posting pictures, or adding other kinds of proof. 
You might have seen, whenever I add some relevant information, I usually link to the source I found it from.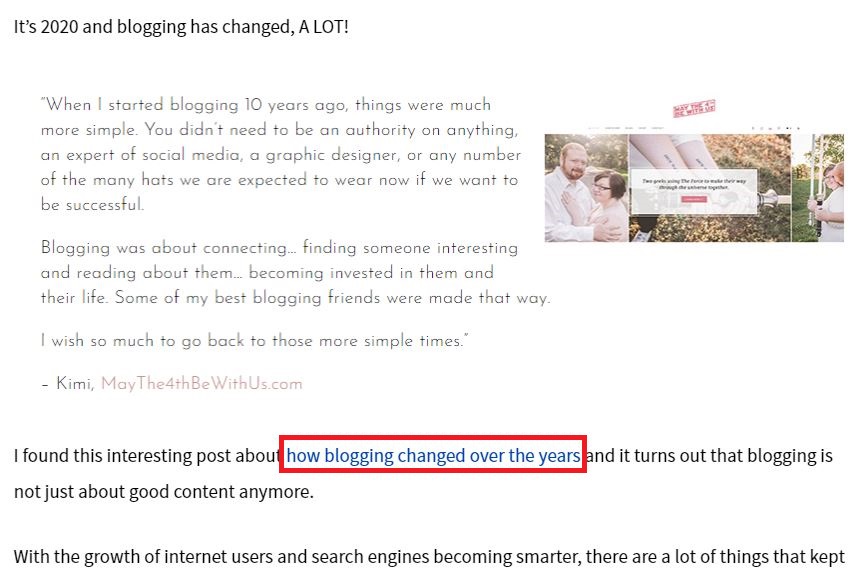 Providing reference is always a great idea to let your audience know about the source of information. If they are interested, they are going to click on it and read more. 
Interact with your audience – Keep your content interactive. Write it in such a way that the user feels connected. Ask them questions every now and then and try to resonate with them. It helps a lot and keeps the readers engaged. The extra time which readers spend on your site also reduces the bounce rate for your pages which ultimately is a great deal for SEO and user experience.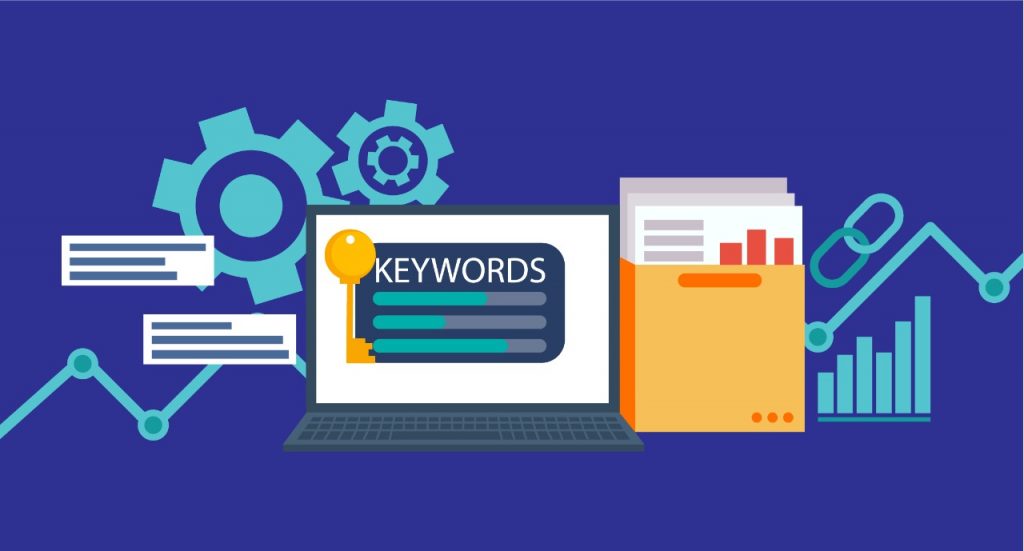 Different bloggers have different concepts of using keywords. While some may litter their content with a particular keyword, a good portion of writers use them moderately and make them seem a part of their content.
Before we understand the optimal use of keywords, let's understand what keywords generally are.
Keywords are such phrases that depict what the content of a page/website is generally about. 
When I was writing my guide on the best blogging platforms, you might realize I bolded a few keywords within my content.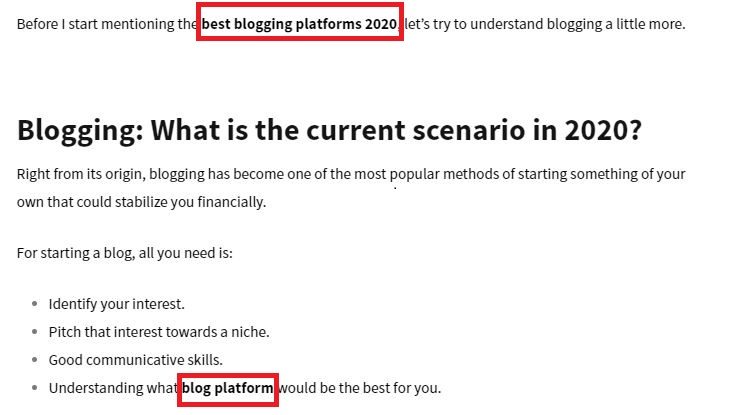 Well, there's a reason for it.
As you write your content, you also want search engines to understand that there are certain keywords in the content that are relevant to the search a user makes.
This means that if a user searches for 'Best Blogging Platforms 2020', Google knows that my content has this particular keyword and it could be pushed higher in the search results. 
USUALLY, the more frequency a keyword has within the content, the more likely it is to rank higher for that particular keyword.
Google understands and ranks a page by the use of keywords.
But this doesn't mean that you stuff keywords into your content.
Keyword stuffing is a common problem in most of the websites. For the sake of convincing search engines that their content includes all the keywords a user might search for, they would include all of them in the first paragraph only. 
Suppose our keyword is 'Pet shops in Downtown'.
Here are two examples of content:

Not only is this an ill-practice of getting your website to rank but it also confuses the reader.
Here's a good example of the proper use of a keyword.

Usually, if you are stuffing keywords in your content, it's going to have more adverse effects than good ones.
Here's what Google says about the use of Irrelevant keywords within your content:

While this concept worked a few years ago, now there are barely any chances that your content would rank because of keyword stuffing.
How to use Keywords Effectively?
When you are writing content, always write it for your readers. Don't worry about keywords much.
Sure, keywords are necessary for ranking your content. But you need to use them humanely. Over-use of keywords always ends up hurting your website. 
Know this – YOU ARE WRITING CONTENT FOR PEOPLE, NOT SEARCH ENGINES!
So, how do you use keywords?
For starters, ensure that you are using your main keyword within the first 100 words of your blog post.
If you check out my content on the website launch checklist, you'd notice that I used my main keyword within the first 100 words.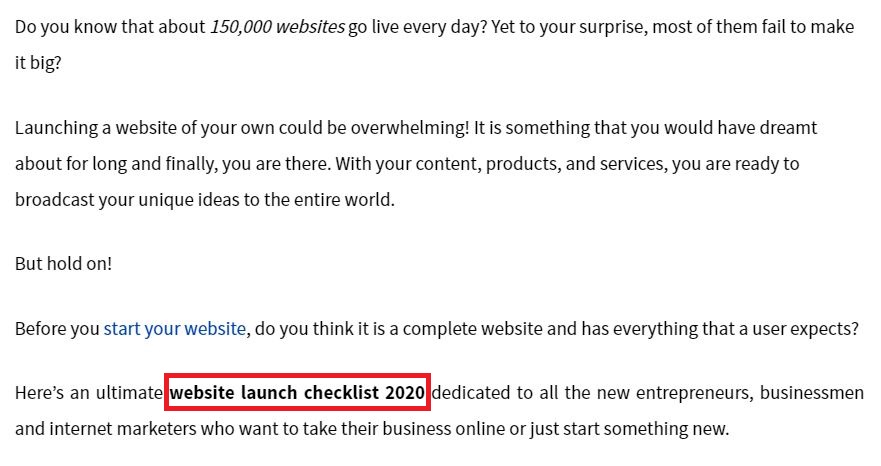 Why?
Well, just as I said, Google targets a better user experience, now more than ever.
Google is more likely to push your content forward if it understands early what your page is about. 
Using your keyword in the first 100 words or the first paragraph lets Google know that your content is aimed towards this particular keyword.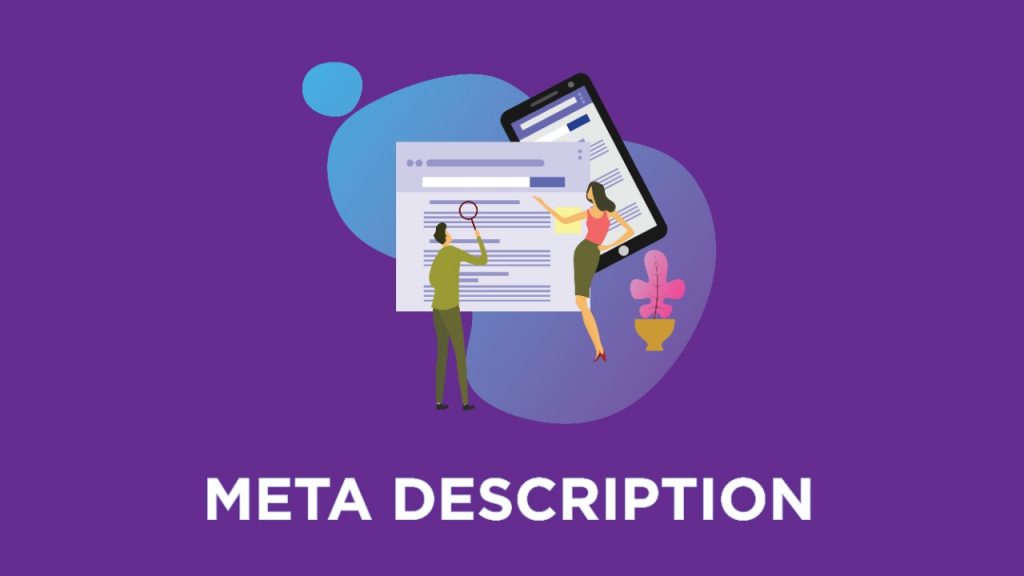 Meta descriptions have been the oldest methods for search engines to analyze your content. Search engines use meta descriptions to understand what kind of audience to direct your content towards.
Meta descriptions feature keywords that the user searches for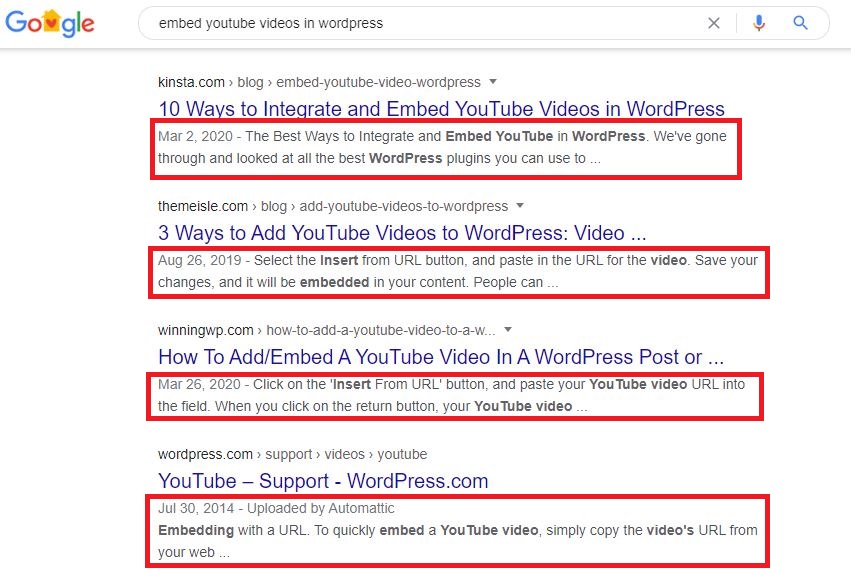 You are in control of your meta descriptions. You can either write them manually, or Google generates the same for you automatically as soon as your website appears in the search engines. 
Google is very picky with its meta descriptions. Usually, it pushes such a website forward which almost has every keyword a user searches for. 
However, if you stuff keywords in it, it's not going to work at all. If it doesn't make sense, not only is Google not going to promote it but it also won't make sense to a user as well.
So here's a thing – Meta descriptions don't help your rankings. Let's agree. But, there's a lot which meta descriptions help you with. They potentially help you with:
Improving Click-through-rate (CTR).

Inviting quality traffic that could convert into sales.

It helps search engines understand that a specific website is of value.
Tips for Meta Descriptions
In most of the content writing platforms, you have full control of selecting the content in your meta descriptions. Even though Google auto-generates them, you are still to choose them on your own.
If you are a WordPress user, you can use plugins like Yoast SEO or All-in-one-SEO to set your meta descriptions. 
I generally recommend entering your focus keyword in the description, maybe once, that's all.
And like I said, don't stuff keywords in the description. Rather, you can use LSI keywords (if they look appropriate).
Generally, a good meta description consists of about 160 characters. Try to keep it short and clickable. I recommend the use of catchy words. It helps a long way.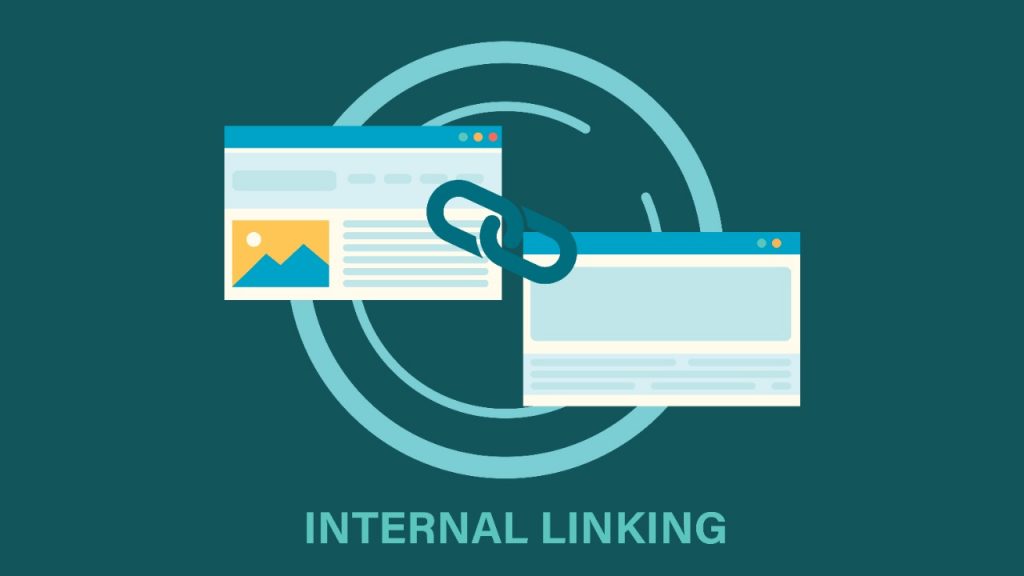 Internal linking has a HUGE impact on SEO. 
A lot of bloggers might not know it, but internal links have a huge impact on your site and its rankings.
For the sake of SEO, internal linking helps in spreading link-equality throughout your website. When you link to your own content, it ensures that search engines follow those URLs as well. 
The use of internal links makes Google reach all parts of your website and index the links that might have been buried otherwise. 
Also, make sure that you keep all the internal links to your site 'dofollow'. This ensures that search engines crawl these pages as well.
Often, certain pages on your website perform below average. The reason is that no direct, crawlable link is provided to them. 
Other than SEO, there are other benefits for internal linking as well.
Internal linking ensures that your readers spend more time on your website. 
With the help of internal linking, your audience stays on your site for longer periods of time. If you link to your pages between your content, the readers are more likely to click on those links, increasing their time on the site.
Internal linking is a great tactic when you want to provide a reference to your content right from your own site and build an information hierarchy. 
If your content has keywords or topics that you have already covered, I recommend you link to them as the reader would get to understand that particular topic more. Internal linking reduces the overall bounce rate from your site as well.
Tips for Internal Linking
When suggesting the use of internal links, I recommend you use a cluster model of internal linking. 
A cluster model includes the use of relevant links within the content of your website. 
When you link to your own content, try to keep it relevant and in reference to the context. The unnecessary addition of links isn't going to feed any value to your readers. 
You have seen me link to my content often. This helps in numerous ways possible.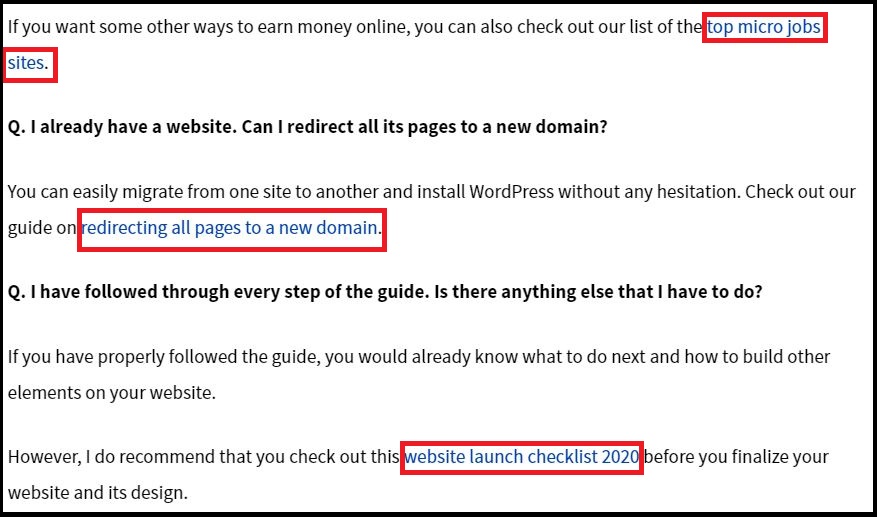 Now, I'm sure your question is, 'How many internal links can I use?'
Well, as many as you want. The frequent use of internal links actually has a good impact on your site's SEO. 
Usually, it depends on the content of your site. Though I recommend you make them look natural and not push it to your reader's face. They are going to click if they find it necessary.
The creation of a title is the sole responsibility of a writer. And if the goal is to get more users to click on the title you've chosen, then you have to be picky.

Titles help a lot with your rankings. The use of the right title with the proper placement of a keyword is going to push your site to the top. 
Even Google says that descriptive titles give the user a clear idea about the content of a page and if they should click on it or not. 
When choosing titles, there's a lot to fit into very less space. Now your titles could be of your choice, but if you want more readers to click on it, pick attention-grabbing titles, something which makes a reader click instantly.
A great choice of words in your headlines helps you convert an impression into a click. 
When selecting headings, make sure you keep them under the H1 tag. 
If you are a WordPress user, then your titles would automatically be under the H1 tag. However, if you use any other blogging platform, you might have to manually do it.
The H1 tag helps search engines understand that this is your title and display it in the SERPs. One is enough! No need to add different H1 tags within your content. 
Moving on, we have the subheadings. 
I usually keep the subheadings under the H2 tag. It is an ideal practice and almost every blogger uses the same strategy.
If you have more headings under a particular subheading, you can go for the H3 tag and so on till H6. 
This helps in good navigation for the readers and even easier for the search engines to understand your content.
Tips for Titles and Subheadings
When choosing titles, there are a few things you could use for your disposal to get the best kinds of headings.
Add the focus keyword first – Your title is one of the most important aspects of the content on your website. 
The earlier you mention your focus keyword, the more chances of ranking high.
While it isn't necessary, but it is an effective method. No harm in trying it out.

Use catchy words – When choosing headings, words like 'Best', 'Top', 'Guide', 'Step-by-step', 'Fast' etc. help you a long way. These words are attention-grabbing and the user is more likely to click on them.  
Title length – Search engines display 50-60 characters of the title tag in SERPs. Try to fit your titles within this length only. However, even if it exceeds the character limit, it would just display it as "[TITLE]…"

You can even remove the branding of your website if you wish. It really doesn't affect the SEO of your page. 
Use brackets – You might see me using brackets in my titles often. It helps in a lot of ways. 
Quite especially, it helps me add that extra information to the title so that the reader understands more about the topic and possibly click on it as well.
Use focus keyword in subheadings – Subheadings are the second thing that's analyzed by search engines after titles. If you use focus keywords in subheadings, you are more likely to rank better for that particular keyword.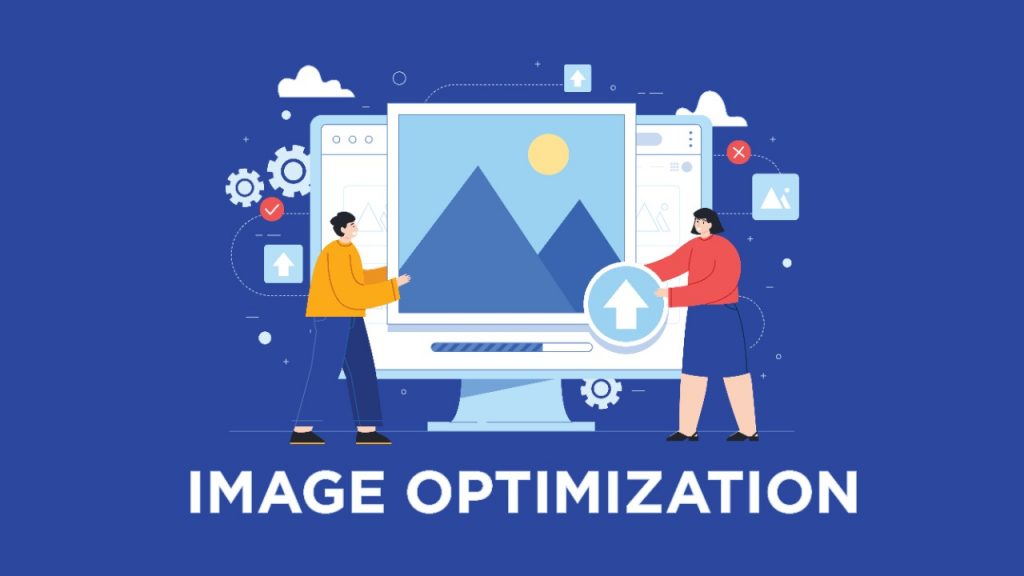 Images provide a lot of value to your content. But they are also the main reason behind the slow loading speed of your page. 
Let's talk about the positives first.
Images go a long way when it comes to providing great references within your content. 
Suppose if you are writing a 'step-by-step guide' for your readers. They are more likely to understand and follow better if you provide images for reference along the way. 
When I was writing my guide on deleting YouTube playlists, I made sure to add images wherever possible. This helps a reader understand the guide better rather than figuring out everything on his own just based on text.
Images also help you with rankings. If you didn't notice, there's a whole section dedicated to images in Google search results where you could find images that eventually lead you to a website.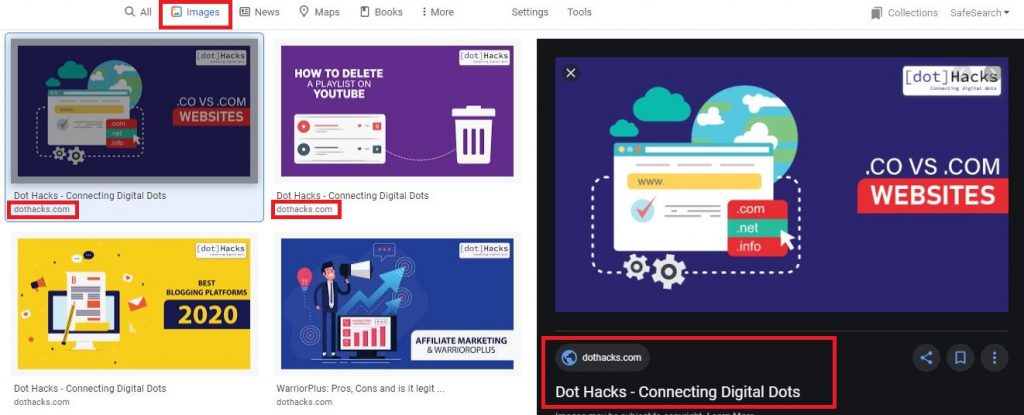 Images have an 'Alt Text' feature that most of the bloggers might not use, but it's actually very effective for your page.
The use of the Alt text is solely for search engines for the sake of determining what the image is all about.

Google is able to scan the written content of a page thoroughly and far better than images. 
Yes, it does scan the images as well, but the technology is not as flawless as you would expect it to be (as of now).
You don't have any assurance that the image you are including would carry out its purpose or be understandable to search engines. Which explains the alt text.
The alternative text is a big help for search engines to determine what your image is all about. 
You need to be briefly precise in your alt text.
Suppose, you are posting a picture of a parking lot. You'd want to explain it in your alt text what the image is about.

You can also use a keyword in it. Though it doesn't have any significant effect, it sure is okay to do it. 
However, if it looks completely natural, then do it. Avoid stuffing keywords in the alt text.
So, what makes an image optimized for SEO?
Tips for using images on your website
Images have their own essence in a blog post or an article. While people usually use them frequently, certain bloggers don't feel the need to do it.
Coming to the fact of slowing down pages, yes, images could increase the loading time of your websites.
This means the images that you upload need to be optimized so that they don't take time to load on slower connections and save you a bunch of readers as well.
Here are the two easy ways you could do that:
Use plugins – If you are a WordPress user, you can use plugins like 'LazyLoad' for images. This plugin helps you to load the text on your site first for the readers before the images, depending on their connection.
Compress your images – If you want to manually compress your images one by one or choose multiple images at once, there are a few sites that could help you do the same. Sites like TinyJPG are a great option to compress your images and then upload them to your site.    
Another common problem that I have seen in most of the websites is the 'use of stock photos'.
Stock images are the pictures you get on Google search that hundreds of websites could be using.
And since Google doesn't like the same kind of content to be displayed within search and discovery, the same is the case in the images section. 
Your site could potentially be buried or not displayed at all if it features stock images or duplicate images. 
Try making original and unique images that are easier to find and have the right alt text and captions. This is going to help you a lot more in SEO.
SECTION 3: OPTIMIZING OFF-SITE ELEMENTS FOR ON-PAGE SEO
Other than the different things you could do on your site and within your content, there are other IMPORTANT FACTORS as well that could potentially influence the on-page SEO on your site. 
These include:
Securing your website

Click-through Rate (CTR)

Page Speed

Mobile-friendliness

URLs
SECURING YOUR WEBSITE (USE OF HTTPS)
If you still use the 'http://' version of your site, your site might not be safe.
An 'http://' version of a site isn't considered secure, at least by Google.
An 'http' version is more likely to have a negative impact on the bounce rate, credibility, and CTR of your site.
Google has moved to HTTPS back in 2014 and even Google declared that HTTPS is a ranking signal for websites. Getting an SSL certificate is an easy remedy to install HTTPS on your site.
Now, most of the hosting providers throw in an SSL certificate for your domain for free during purchasing because it is 'that' common now.
However, you can even head over to LetsEncrypt for a free SSL certificate if you can't make any changes in your hosting plan now.
Click-through rate (CTR) is technically defined as the ratio of users that click on a result displayed in the SERP to the number of total users that see the link.
It is an essential element that can drive more traffic to your site.
How?
The clickable your title and meta descriptions are, the better your CTR would be.
CTR is directly proportional to search engine rankings. The reason is that when a user finds your snippet in the SERPs appealing, informative, or something that could suffice his search for a particular query in the first place, he is going to click on the snippet. The more clicks a snippet receives, the higher you can rank in the search results.
Click-through rate is an important element for driving more traffic to your site. 
Tips for a better Click-through rate
Pick Appealing titles – When I say appealing titles, I mean such titles that are actually optimized for the user. Back in section 2, I told you about how to pick a title and what kinds of words appeal to the reader.
In fact, I suggest you analyze the top 10 titles for your particular keyword and then come up with a few titles of your own. Compare all of them and derive such a title that fits perfectly with the content of your site.
However, don't pick the titles that are already published. You might have very fewer chances of ranking better with a duplicate title. 
If you are still finding it difficult to come up with a catchy title, you can try seeking help from the Hubspot Blog Topic Generator or FatJoe's Blog Title Generator. All you have to do is to enter a particular keyword and it will generate a few ideas for you that might sound interesting. You can either pick the same topic or change the words a bit as per your need.
Meta Descriptions – The use of meta descriptions is considered to be important for a better CTR. So much so that it has been proven that pages with a meta description get about 5.8% more clicks than the ones without a description.
Google doesn't necessarily use the meta descriptions you provide. 
So you might think, 'What happened to the meta description I wrote?'
Google can generate their very own meta description and display it in the search snippet. There is very little control over it from the writer's end.
At times, Google won't use your meta description and that's okay. Depending on the search query, Google usually generates a description for your webpage which is very different from the one you provided for it. This automated process was created many years ago by Google.
This doesn't mean you stop writing meta descriptions. 
If your meta description suffices the content of your page and is somewhat similar to the one Google might generate for your page, chances are that they might stick to yours only. Just try to keep your meta description relevant to the search phrase.
Favicon – Favicon is the little logo in your browser window that appears next to your site. 

There's no estimation if a favicon could have an influence on search engine rankings. But they are helpful for user experience. It is a distinction from one site to another and very helpful while switching between tabs.
There are chances that favicon could be helpful in CTR, even if its 0.01%.
Page Speed is another VERY IMPORTANT ranking factor. So important, that even Google wants you to pay attention to page speed.
On average, if your site takes more than 4 seconds to load, the user is more likely to move on to another option than wait for your site to load.
And if your site doesn't serve a good user experience, there's no point for Google to rank your site among the top results. 
To test your site's speed, you can use the PageSpeed Insights from Google which helps you find out the loading time of your site across multiple platforms. The best part is that it even provides suggestions for improvement and how you could potentially decrease the loading time of your site.
To make your site the fastest and get a perfect score is kind of difficult if you don't have adequate knowledge about CSS or different styling elements of your site.
However, there are a few things that you can do on your own to decrease the loading time of your site.
Choose a fast web hosting – Your hosting plan is one of the main reasons if your site is underperforming. It has a huge influence on the speed of your site.
Settling for cheap hosting plans is not the best option if ranking to the top is your goal. 
When buying a hosting plan, take the following things into consideration:
Speed

Location of the server.

Uptime of the server.
Enable Browser Caching – When your 'returning' visitors are server cached pages, the time to load the site is very less as compared to the first time. 
There are different plugins that help you serve cached pages. The W3 Total Cache is one of the best plugins for this purpose.
Pro Tip: You can even optimize the images (as I mentioned in Section 2). Different tools and plugins help compress your images and increase your site speed overall.
Do you know that about 50% of the users use their smartphones to access the internet?
With the introduction of high-end smartphones that could potentially influence or even replace our traditional habits of accessing the internet from computers, Google along with other search engines focused on targeting mobile users as well.
As mobile usage rose, even Google decided to provide its services on mobiles. 
Google doesn't really prefer displaying such websites in the top results of SERPs if they aren't mobile-friendly.
Serving your content across multiple platforms is only going to help you increase your traffic because most of the users now use mobiles to access the internet. Why? Because it's easy!
There are a few options you could ensure on your own to make your website mobile-friendly:
A separate mobile site

A responsive design
The best solution for SEO, however, is having a responsive design. A responsive design can adjust itself according to different platforms you visit the website on.
If you want to test your site for mobile-friendliness, there's a tool from Google that you can use.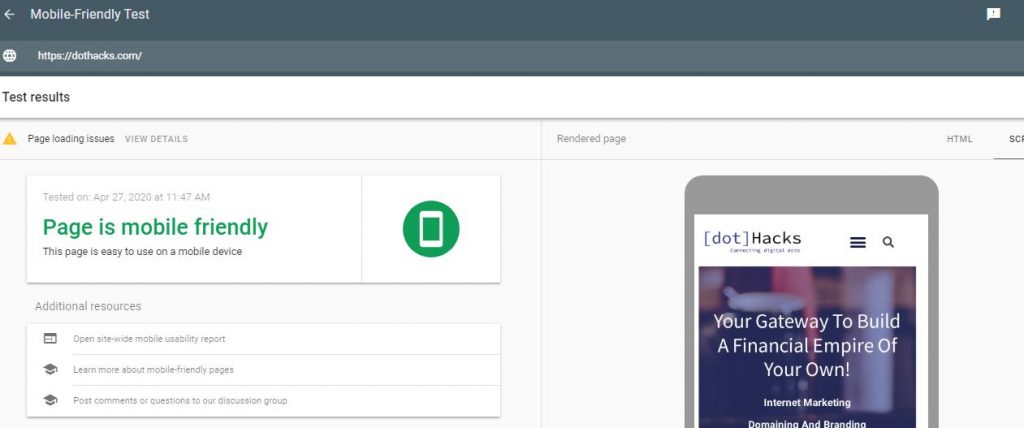 Tips for Mobile-Friendliness
Optimize your text – Avoid writing huge blocks of text that have a massive font and are unreadable on smaller screens. Try to keep a uniform font size and style overall. However, you can use H2, H3, H4, etc sizes on subheadings as we discussed above.
Apply a responsive theme – If you are a WordPress user, the good news is that most of the themes in WordPress are automatically mobile friendly. The same goes for most of the other platforms.
However, if you use such a platform that doesn't let you customize the mobile version of your theme, you can hire a developer to make your site responsive on different devices.
Consider AMP – Accelerated Mobile Pages or AMP is an amazing and extremely helpful framework that helps you create such mobile pages of your website that are easier and faster to load. You can use it frequently if you have a static web page or pages with a lot of text over them.
Have good navigation – A good navigation (like menus and Table of Content) needs to be established over mobile devices as well to ensure that the user is able to surf through your content easily and find what he is looking for. This has a significant impact on the user experience of your website.
URLs are probably the most underrated SEO factors out there.
Every blogging platform allows you to customize your URL. And if an optimized URL is what you want, ensure the following things:
Keep your URLs short and simple.

Try to use your focus keyword in the URL.
In my guide on the best camtasia alternatives, my content was optimized around the keyword was 'Camtasia Alternatives', and that's what I added in my URL.

A short and descriptive URL is always easy to remember. It makes more sense to the users and could be found again very easily.
Google also creates breadcrumbs for the structured URLs to display in the SERPs that actually looks good.

I hope you liked this guide on On-page SEO.
What are the practices of SEO that you follow on your site? Tell me in the comments below.
If you have more tips for our readers, go ahead and mention them in the comment section.
If you like this post, I recommend you check out our other blogs, and join our community on Twitter, Instagram, and Facebook.