Blogging, just like every other interest, comes with its own disbeliefs that almost every new blogger is bound to believe in.
Ask any professional blogger if they have ever committed mistakes in their blogging career and their answer would always be YES.
New bloggers join the field after having a variety of misconceptions which ultimately leads to mistakes in their blogging career.
Usually, they realize these mistakes after they have spent a lot of time blogging.
However, if you could save yourself from these mistakes from the very beginning, you have a headstart as compared to other bloggers.
Mistakes that almost every new blogger makes
Most of the mistakes that we commit while blogging, we aren't even aware of them for a long time.
If you are producing high-quality content yet still have a dip in rankings, it might because of one or more mistakes that you are making.
1. You enter a niche based on the rewards
In blogging, there are hundreds of niches that would interest you. What fuels this interest more is that some niches are less saturated which means there's more money involved.
However, these niches would usually require you to have a lot of expertise in the field before you even start writing blog posts over such topics.
For example, if you are planning to write blog posts on the medical industry, you need to have at least some kind of experience before you start. If not, there's no reason to do it, irrespective of the money involved. 
Solution
When starting, always make sure you know what you are going to write about. Developing a masterplan that involves picking up the right niche and having topics ready right before you even start is one of the best ideas.
Research your niche well and always pick the one that interests you the most. If you choose to make a blog on the niche that you don't know much about, you are eventually going to run out of topics to post and your blog would be lost in the oblivion. 
2. Expecting rewards fast
Over the last 10-15 years, blogging has saturated so much that you can now find thousands of blogs running around every niche, especially technology. This saturation has made blogging very competitive.
If you are into blogging for money, that's totally okay. In fact, almost everybody wants to make a living off of it. However, it's never as easy as it sounds.
Most of the bloggers start at a fast pace and expect the blog's popularity to sky-rocket. And when that doesn't happen, they get disappointed, lose the motivation to produce new blogs, and give up altogether. 
Solution
What you need to realize is that with the amount of good content, websites, and other forms of media that's out there, it could be really hard to find that space your blog needs. Starting off at a fast pace is okay, as long as you could keep it up.
When it comes to blogging, it takes somewhere around 6 months to a year to make some revenue off the blog. A couple of sponsored posts here and there might help you, but you still have to give it time before you could earn independently from your blog.
For you to receive links from other blogs, you need to link to others as well. Linking to others doesn't only get your blog out there, but it even adds a reference to your content. 
Solution
Firstly, when you link to others' content, you are being noticed by the same author the content belongs to. They are most likely going to check your content and maybe even link to your content somewhere down the future. It builds your relationship with other bloggers and maybe you might even be involved in their good graces down the line.
Secondly, when you insert the relevant links to others' content in your blog, you are also telling your readers that they could obtain more information about the same topic on this particular website. 
If you check our article on On-Page SEO, you will realize we have linked to multiple sites whenever we felt that the reader could obtain more information about the same topics through these links.
4. Too many Sponsored posts and links
As your blog starts to grow online, a lot of fellow bloggers and small brands might approach you for collaboration. All they would want you to do is to add a sponsored link somewhere in one of your existing (or new) blog posts and pay you money to do so.
If you do so a few times over the course of a few months, it could help you earn some extra income. However, if you are too frequent with it, you are essentially ruining the credibility and status of your blog. 
Here's how!
First of all, giving out a lot of dofollow links means that you are essentially giving out your link juice to other websites on the internet. In the long run, it hurts your domain authority and you could even rank lower for some of the most basic keywords that have low competition.
Secondly, your readers are going to hate it when you add too many links to your content. When most of your posts are sponsored, most of your readers aren't going to read it at all. This hurts your readership. If you are trying to build an audience, try to find a balance between sponsored posts and regular posts. Also, don't forget to mention that the links/blog posts are sponsored.
5. You don't consider your social media
In case you haven't realized, social media is one of the most important parts of your blog. New bloggers usually ignore their social media and think that quality content is the only thing that could get their blog popular.
As your blog grows, your social media becomes an attraction. In fact, if you have an individual social media presence, you are more likely to be discovered independently by the users. As they check out your content, they are likely to read your blogs, subscribe to your newsletters, or even buy any of your products.
Social media plays an important role in brand discovery.
However, most of the new bloggers make the mistake of dedicating their social media to just share their blogs. This is going to serve NO PURPOSE of having social media. 
Sharing links on your Facebook or putting up thumbnails of your blogs on social media isn't going to provide any value to your readers.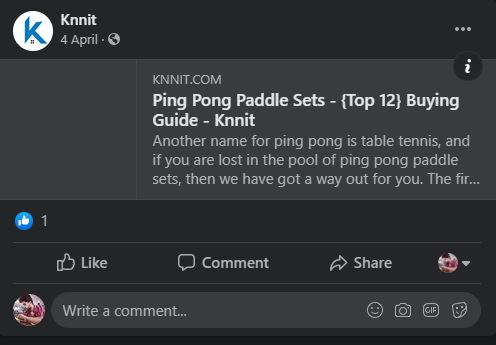 Solution
Your readers follow you when you have valuable content. If you have an online presence on Instagram and Facebook, use the same accounts to provide as much valuable content as possible.
Neil Patel is the best example of this.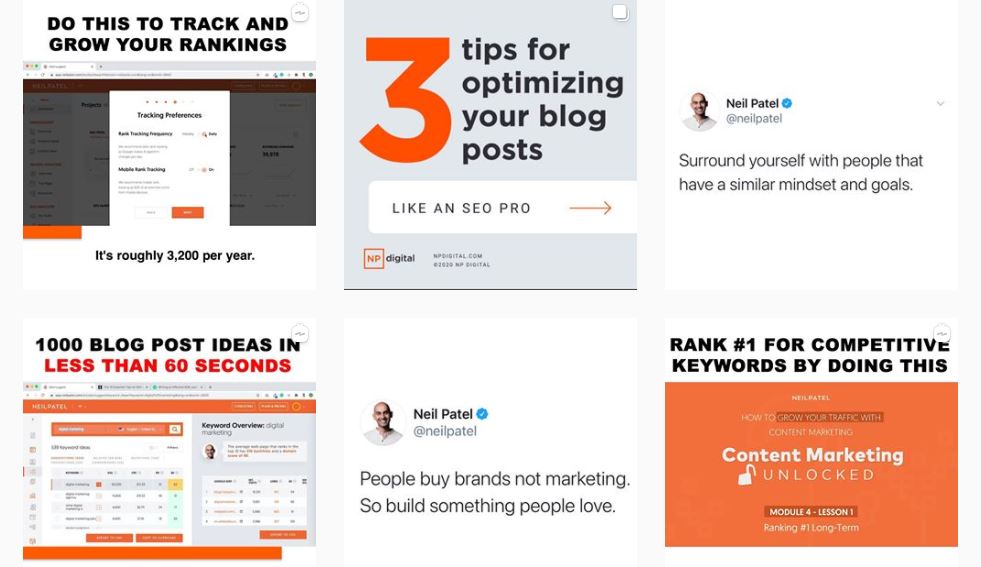 He has a very distinct social media presence. While on one hand, his blog is a resource and knowledge hub, his Instagram is meant for short, sweet, and valuable content that's easy to digest.
6. Not Formatting Content Properly
MOST OF YOUR READERS skim through your content. Yes, that's right!
They prefer scrolling through the long blocks of texts that you have written just to find what they are looking for.
When you write long paragraphs, even the readers that came in to read everything would still be bored. Due to our lack of attention span, we need fast-paced content that's at least structured in such a way that's easy to digest.
Solution
Structuring your content in small paragraphs is always easy to read. When you write long paragraphs, always make sure to break them into smaller ones so that it increases your readability.
Another tip is to structure your subheading in H2/H3 tags as per the need. Not only does that help increase the readability (as the content is structured properly), but it even helps to improve your website's SEO. Read these guidelines to structure your headings and sub-headings properly.
7. Not adding enough value to your content
There's a very thin line between plagiarism and inspired content. In fact, most of the newbies don't even realize it before they even write hundreds of posts of the same, repetitive and invaluable content they shouldn't have ever written.
I even mentioned the same in my guide to On-Page SEO. 
Google is becoming smarter every day and they can realize when your content is similar to other websites. It really doesn't matter if you are spinning the content or paraphrasing it anyway, you are just adding extra content on the same topics, something that your competitors have already covered.
Even Google mentions that invaluable content isn't going to take your website anywhere.
Solution
As you are writing content, I always recommend researching thoroughly. Even if you are writing about a basic topic, ask yourself what it is you are offering that should make the users click on your website? What extra value are you offering with your content that none of your competitors have mentioned?
Producing high-quality content is always going to bring a lot of visitors to your website. The more informative your content is the more shares and backlinks it invites towards itself.
In addition, take the time you want to produce content. Even if you are writing a single unique blog post every one or two weeks, it's still better than daily invaluable blog posts that have no scope of getting ranked anywhere on Google.
8. Trying to monetize too soon
4 years ago, when I launched my first blog, I was very excited. Not because it was my first blog, but because I could monetize it and earn money online, something that everybody wants, right? I never realized how my main motivation of blogging became the revenue involved rather than the value I could offer with it.
I am sure most of you feel the same way.
None of us would ever be into blogging if it was for free. Money is the most significant factor that drives us.
However, this is a mistake that almost all of us have committed.
For blogging, there are multiple ways to monetize your blog with. But none of that ever works unless you don't have adequate traffic on your blog.
A lot of bloggers are impatient to earn revenue from their blogs. Let me break it down to you though – it takes at least 5-6 months for you to earn even a single dime from a new blog.
Solution
Blogging is a very saturated field at the moment. While you could find multiple ways to monetize, you still need to work on building your authority first. Ask yourself, who would be ready to buy any of your products when they haven't even heard about you?
Work on building your authority first. Everything else comes later on. 
Before you even display those ads on your site, try to get your blog known first. The more popular your blog is, the more traffic comes to your blog. The more traffic, the more revenue. And when you have enough authority, you can even start selling a few of your products like eBooks, tools, and case studies.
Start with lower prices. As your subscribers and readers grow, you can even raise your prices and start pushing more digital products. 
9. Expecting more traffic with more backlinks and fewer posts
A lot of bloggers believe that getting backlinks from other sites is going to invite a lot of traffic to their blog. 
It's true that backlinks could get you higher ranks in the SERPs.
But, if you ask me, it's considered to be a robotic approach. 
It doesn't even make sense if you have very few posts but tonnes of backlinks.
And while it could get you a lot of traffic (and even rank your blog higher in SERPs), you need to realize that this popularity is temporary. 
Excessive backlinks could get you a huge spike in rankings momentarily. But it barely lasts a month when your rankings are again dropped and you are back to square one.
Solution
While building backlinks is a great alternative to get your blog ranked higher in the SERPs, you also need great content to sustain these rankings.
Before you even start building, have 50-60 HIGH-QUALITY posts that are easy to rank and clearly depict the quality of your blog.
After you are done with that, then you can resort to building links. Start working on backlinks gradually and only settle for the ones that are relevant to your niche.
You can even start guest posting once you have good domain authority. 
By this point, I am sure you already know what you are doing and how you can improve your blog.
Hope you found these tips useful.
Come hang out with us on Instagram. We will provide you some of the best tips there as well.