Customer feedback is the backbone of any well-established business. The better your customer feedback is, the more your business is approached by new consumers.
Facebook recently introduced a customer feedback score system that helps the advertisers upgrade the user experience which they offer.
And soon, advertisers started facing issues with their ads, including:
Higher cost of conversions,

Low Facebook Ads delivery,

Ads have been entirely disabled on your platform
This means that you need to work on improving your customer feedback score on Facebook.
And that's what this blog post is dedicated to.
What is the Customer Feedback Score on Facebook?
For advertisers, Facebook considers a variety of information. This includes feedback from people that purchase from Facebook or similar sites under it like Instagram.
This data collection helps them to make sure that the advertisements displayed aren't misleading and offer exactly what they display.
This information is considered by Facebook to give every business page that runs ads a score from 0 to 5.
0 being the lowest and 5 being the highest.
The customer feedback score is updated constantly after feedback from customers is received. The better your customer feedback facebook score is, the better chance your ads have to perform well.
Why did Facebook introduce a Customer Feedback Score?
Facebook has about 2.9 billion users, which means that it's a huge platform to run advertisements in. Millions of businesses are running ads on Facebook. With this amount of ads running on the platform, there are higher chances of misleading, spammy and inappropriate ads being shown on the platform, something which has happened a lot on Facebook so far.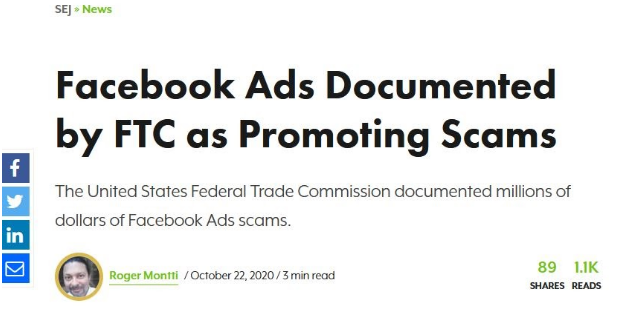 Apparently, Facebook has had a lot of controversies surrounding itself regarding the displaying of ads. The introduction of a quality control was bound sooner or later.
As much as it seems untrue, Facebook is turning into a giant ad network than just being a social media platform. 
And just like every other ad network, Facebook had to introduce a quality control for the ads that run on the platform.
Remember the Quality Score that we talked about in our Google Ads guide? Consider the customer feedback score on Facebook almost the same thing!
The Customer Feedback Score: Explained
So apparently, there's a rating system that lets you know where you lie in terms of customer feedback score on facebook.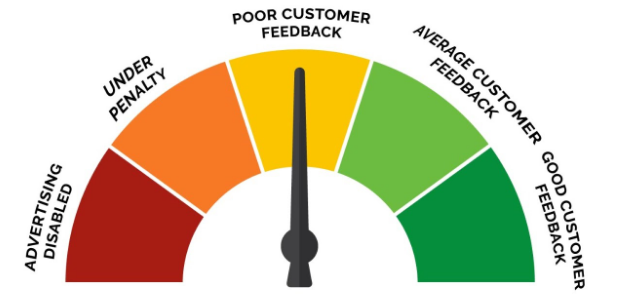 Here's the breakdown of this score:
4 – 5 (Good Customer Feedback):

This is the safest zone and reflects the fact that whosoever purchased from your business has given positive feedback on your product.

3 – 4 (Average Customer Feedback):

This is the average customer feedback zone and reflects that you fall in the same category as that of other ecommerce businesses that sell products through Facebook ads.

2 – 3 (Poor Customer Feedback):

This is the stage where you might face higher cost of conversions. People are giving you poor feedback which means that you could also face delivery penalty.

1 – 2 (Under Penalty):

Your ads are under penalty. At this stage, you're going to bear a lot more cost and your ads won't have a good reach.

0 – 1 (Advertising Disabled):

Due to extremely poor feedback, your ads won't run and the advertising ability for your account would be disabled.
How is your Customer Feedback Score determined?
Facebook is very clear with its Customer Feedback score. Even on their official Help Center page, they make it clear what are some of the factors that influence your customer feedback score.
This score is usually determined by a few obvious factors. If you are business page on Facebook or run ads of any kind, make sure you consider obliging with the following factors:
1. If the customer received the product
When a shopping window is closed and you update on your end that you have delivered the product, Facebook heads over to the consumer and asks them about the product and if they received it.
If the answer is 'no' and they haven't received the product, you have a dissatisfied customer and a chance of a penalty from Facebook. The more this behavior is continued, the more chances are there of your advertising account getting disabled.
2. The Quality of the Product
The quality of the product has a huge emphasis over your customer feedback score. Often when you shop online, you have the ability to see what the seller is promising you. 
If you are ordering a T-shirt, you can clearly see if it's a cotton tee or a blend. And when you receive the product, you already know what you should expect because you were the one who ordered the product.
However, if the quality of the product isn't what was promised by the seller, it invites a bad review or even a return from a consumer. Facebook monitors such activities and is likely to include you in the "bad feedback score criteria" after a few orders.
The customers are asked if the product was delivered on time. If it was delivered before or exactly on the day as mentioned by the seller, well and good.
If it takes time, a few days longer than the delivery date, then your feedback score would be affected. The longer this trend continues with your orders, the more your business gets affected.
When a feedback is taken from a customer, they are also asked about the experience they had with the customer service. 
If your service has been great, you are bound to get good reviews. And if your service isn't as great as it should be, you will obviously get negative feedback that ultimately affects your feedback score.
How to fix your customer feedback score on Facebook?
It's common for businesses to face the problem of having low customer feedback scores. If you are facing the same problem, there are still ways you could improve your customer feedback score.
Here are a few tips that you should follow before you run your next advertisement on Facebook:
1. Deliver what you promise
A lot of ads (even outside Facebook) display misleading pictures or videos that give the wrong impression about the product to the user. When the customer finally receives the product and discovers that it wasn't what they ordered, they are obviously going to leave negative feedback.
If your business isn't clear about exactly what they are selling, you are liable to receive negative feedback.
Forget about how Facebook treats your account, your sales would be affected in a dramatic way. 
Make sure you:
Display adequate information about the product. Make sure you include the type of product you are selling, what it's made of (in case it's a clothing material) and even what sizes are available.

Show accurate pictures and videos of your product that reflect its condition. This allows the customer to expect exactly what they ordered. Ensure that the pictures are of high quality and taken in proper lighting.
2. Be precise about the delivery of the product
When a customer begins ordering something, they also consider the delivery date of the product. As an advertiser, you have to be clear when you could deliver the product.
Set clear expectations about your shipping methods, what kind of delivery you provide (like door-to-door) and how much would the delivery cost incur.
The last thing a customer would want is a hidden fee for delivery. If a customer has to pay extra for delivery while receiving the product after they have already paid for the product, it invites negative feedback. Make sure you are clear about the delivery of the products.
Also, if you can, try providing tracking IDs for your orders. It helps the customers track their orders.
3. Build a proper business profile
While this factor won't directly impact your customer feedback score, it still has a lot of emphasis on getting great feedback from your customers.
When you are running ads of any kind, make sure your Facebook profile is complete overall. This includes your business location, your contact, your bio, your niche and the type of products you are selling.
The reason for this is when an existing customer wants to know anything about your business, they approach your profile. If the profile is complete and they find what they want, they are likely to trust you in the future with your ads.
However, if you don't have adequate information and miss things like contact number or location, a customer is likely to get infuriated at the lack of information. A customer could look for such details for countless reasons, like getting in contact with you or placing orders through a different method. Make sure you give them all the information they want.
This helps in building and improving customer experience, which brings us to our next point.
4. Provide an exceptional customer service
A lot of new/old businesses showcase their Unique Selling Points as 24 x 7 customer support. However, most of them aren't able to back up this claim. 
For a business to perform exceptionally well, it should be as transparent as possible. So even if your helpline is available for just 12 hours a day, display that instead of keeping a 24 x 7 helpline.
The next thing you need to consider is to entertain any return/refund requests that come your way. 
If your business has such a policy in place, make sure to display the same on the order window while the customer is ordering a product. The last thing they would want is to order anything and realize you don't even accept returns.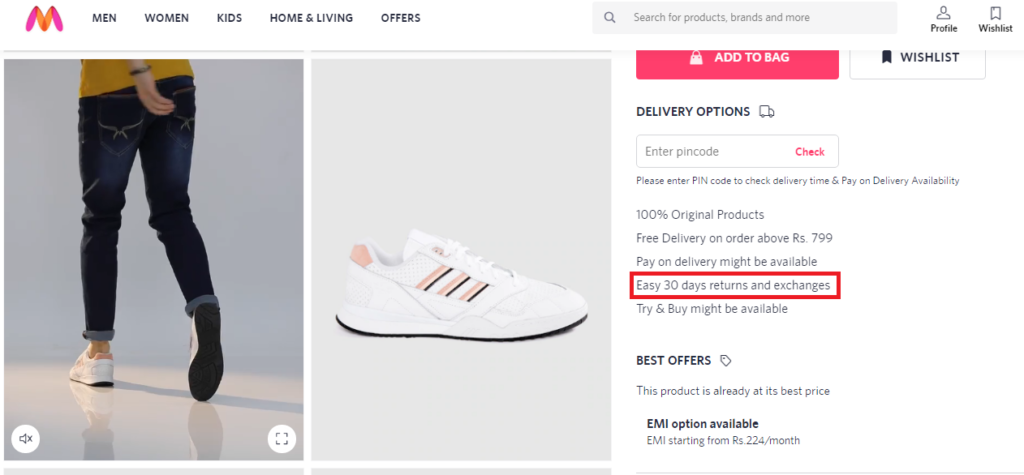 Also, make sure to be clear about the timezone of your country and what time your customer support would be open for other countries as well.
Pro Tip🔥: Be as truthful to your advertising as you are to your business. Misleading ads might get you some extra sales or revenue for time being, but it's always bound to fail. Follow all the advertising guidelines and you are bound to receive good customer feedback all the time.
Customer Feedback plays a crucial role in making or destroying your ability to advertise on Facebook. However, this shouldn't mean that this needs to be the only reason for you to be ethical with your business.
Good customer feedback is something that you should focus on in the long run, irrespective of its impact on you running ads or not.
Feedback allows you to improve your business and align it with the perspective of a customer. Make sure you take it seriously every time. 
Also, don't forget to put in a comment telling us how you manage your customer feedback score and what others should do to improve it.