If you are a marketer, you definitely would have heard of Clickfunnels, how astounding of a service it is, and how much you could potentially reap out of it.
ClickFunnels is a platform almost every marketer has tried or at least, heard of. 
It is an all-in-one marketing platform and one of the primary reasons as to why most of the marketers are have been able to scale their businesses.
But, if you are anything like me, you would definitely notice a few downsides to Clickfunnels which, let's be honest, are quite prominent – one being the cost.
Just like every other platform on the internet, Clickfunnels won't be able to suffice the needs of every marketer and that's totally okay. Not everybody would be able to find everything they want on this platform.
However, most of the downsides of Clickfunnels are fixed in some of the other platforms that we could consider as clickfunnels alternatives. 
Since the main goal of marketers is to scale their businesses with the right platforms, you definitely wouldn't want to miss out on some of the best sales automation platforms, which in fact, are equally better as Clickfunnels. And that is why I had to curate this article and dedicate it just to introduce you to some of the best clickfunnels alternatives.
Clickfunnels is one of the most used marketing and sales platforms globally.
Marketers all around the world use Clickfunnels to build easy marketing funnels, build pages on their websites, and use the simple drag-and-drop feature to add different sections to their web pages. 
Clickfunnels is one of the most popular funnel building platforms for marketers. The significant upsides to this platform are that it is a cloud solution which comes with some of the most prominent features like:
Payment gateways

Sales and marketing automation

Landing page builder

Membership area

A/B testing.
Why do you need alternatives to Clickfunnels?
With the features and quality it promises, Clickfunnels actually is a great platform.
However, as a beginner or somebody who is switching platforms, the features or the cost might not be something you need at the moment.
Clickfunnels is a great sales funnel builder. But like most of the platforms, there are a few downsides to it as well. Sometimes, it might be the lack of provision for multiple languages or even the checkout templates. 
Whatever the reason might be, you are free to check out alternatives as well, right?
If you want a more personalized platform that has specific features that suit your campaigns, you can definitely have a look at some of the top-performing clickfunnels alternatives. 
I'm sure in this list, you are going to find a platform that is going to suffice your needs for a more customized marketing and funnel creation.
ClickFunnels Top Alternatives 2020
Here are some of the top alternatives to clickfunnels that marketers and online businesses could resort to for the sake of converting their traffic into leads and customers:
1. BuilderAll - Top alternative to clickfunnels 🔥
(From $19.90/month) (Free version also available)
BuilderAll is considered to be the best alternative to clickfunnels because of the abundance of features that it has.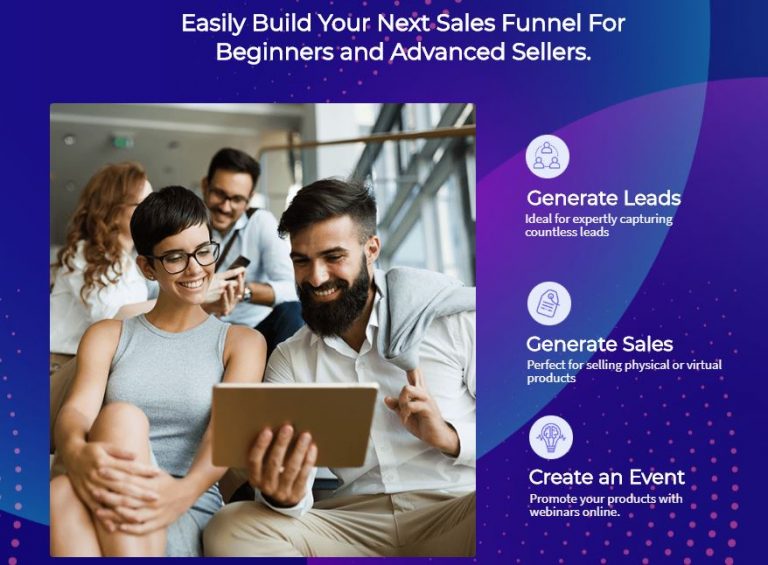 Starting from the basics, BuilderAll is a website creation platform, that you can't integrate with WordPress.
But that doesn't really make a difference when you are aiming towards building such a platform that makes your marketing easy and takes care of all the tasks you need to do in order to reach a wider audience. 
BuilderAll has all the tools that you are going to need for setting up your very own sales funnels and drive effective email marketing campaigns.
One of the main reasons a lot of marketers have resorted to this solution is that not only is it very affordable for beginners (that have just entered the field of marketing), but it even assists you with building a website for your products or services.
With BuilderAll, you are provided access to some of the best tools to manage your email marketing campaigns and essentially automate everything on your platform. 
Some of its important features are:
Provision of unlimited domains, subdomains, and bandwidth.

10GB of disk storage.

App and video builder.

Presentation builder with a quality marketplace.

Email marketing tools.

SEO report tools.

Payment gateways.
However, BuilderAll is not all flawless. Just like every other platform on the internet, even it has a few downsides you should know as well.
Cons
One of the main downsides of BuilderAll is that it won't work with your existing site. If you want it to work with your platform, you have to rebuild the entire website with its platform. If you are a starter, BuilderAll might be a good place to start. And if you already have a website, you might want to settle for some other alternative.

The interface of the designing side of the site isn't that attractive. At times, you might feel like you are building and designing content with a basic

blogger platform

.

Customers have had various complaints about their customer service being poor or even unresponsive at times.
(From $99/month)
If you are a frequent Clickfunnels user, Kartra is definitely going to feel like home. It has so many features which makes it equally better to Clickfunnels.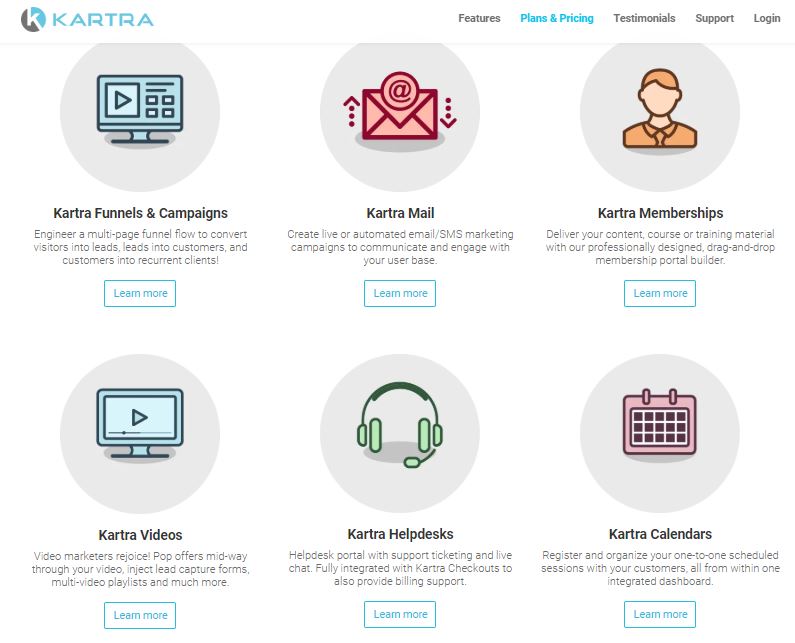 In fact, a lot of marketers have migrated from Clickfunnels to Kartra because of the features that it has to offer.
The platform boosts your conversions and sales. Right from designing the best newsletter pages to optimizing your entire website for more conversions, Kartra does it all.
Being an all-in-one marketing platform, you can count on it for your marketing campaigns, e-commerce, and video hosting features. Kartra is known to combine your landing pages, sales pages, and other payments, all in one place.
Kartra even allows you to export your funnels from one account to other people's accounts. With the availability of some of the best and already available campaigns for you, it is easy to make your brand reach out to more people.
A common feature that this platform boasts about is the membership platform which allows you to create a bunch of membership levels along with customizing their content, delivering products, and a lot more.
Kartra has a bunch of templates to choose from for funnel building. As you choose one, the drag and drop page builder makes it easier to customize.
(From $12/month)
Launched in 2016, Simvoly is a great alternative to Clickfunnels when more control and fewer costs are your primary concerns.
Simvoly offers you a robust tool that's designed to bring in more traffic, generate more leads, and essentially maximize your macro and micro conversions.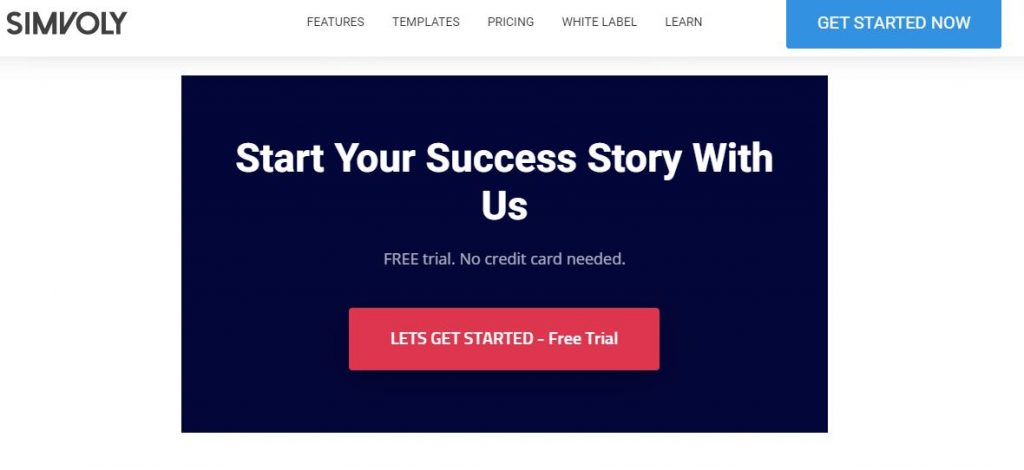 One of the things that made me feature this alternative in the top 3 of this list is how easy it is to use and understand. All you have to do is sign up for an account, take a quick tour of the dashboard and that's it!
Simvoly probably is the only platform in this list that fuses blogging, ecommerce, website building, and other such solutions into a single platform.
Even if you don't have any coding knowledge, there really isn't any need for it, since Simvoly takes care of the designing aspect itself.
Some of the easy features that it allows you to take control of are having your own funnels and site builder under your brand and domain. You set your own pricing plans, create templates, and reach out to a wide audience with its marketing tools.
Here are some of the significant features of Simvoly you might want to know:
There are a bunch of templates to build pages, funnels, and blocks easily.

Being an easy drag-and-drop website builder, you can essentially build your own online stores, funnels, and anything you want to create and take it to the internet. 

Upselling and down selling is made the easiest.

CRM, membership areas, and products could be managed from one place.
(From $99/month)
Here's another amazing clickfunnels alternative that is almost as good as most of the platforms I talked about so far.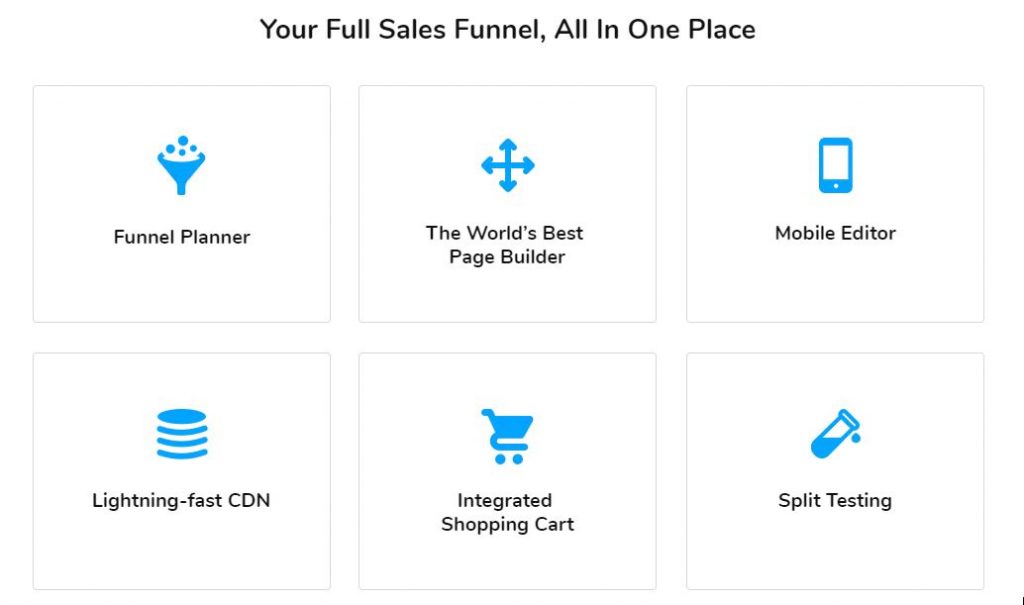 Convertri is basically renowned for combining the best features of platforms such as LeadPages, Instapage, and Clickfunnels into a single platform, which makes it one of the best drag and drop page builders out there.
Convertri allows you to build some of the most effective marketing funnels. With this platform, you can drag elements on your page in a freeform style which basically provides you more customization than any other such platform.
This platform even allows you to boost your sales conversions. While it is more responsive and feasible to use on desktops, you can even use it on mobile browsers as well. 
Here are some of the features of Convertri:
There are hundreds of templates to choose from. These templates could be used to create different important pages on your website.

It has an easy share and import feature that allows you to share the funnel codes to your business partners.

Just like every other clickfunnels alternative we talked about so far, this platform features a drag and drop page building as well.

You can create customized funnels and websites.
(From $37/month)
Since we talked about LeadPages in our previous feature, let me introduce it to you as well. 
And to be honest, LeadPages has maintained its position for so far that if you ask any marketer what the immediate best alternative to clickfunnels is, their answer would be 'LeadPages'.
LeadPages is a great tool that is primarily focused on helping you to build a perfect landing page.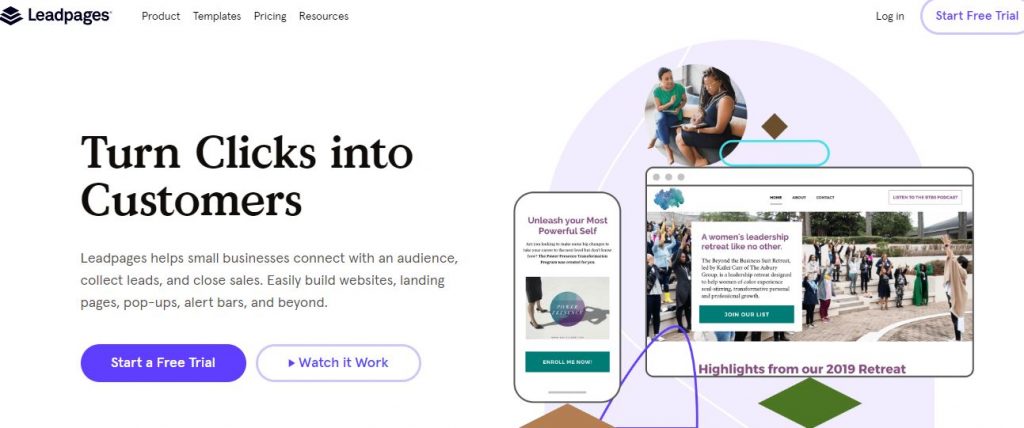 Sure, you might not be impressed with the editor in the first place, but there are some unique features to it that makes it much better than the rest of the platforms. 
Before you even decide to sign up for LeadPages, you should know that the main focus of this platform is to help you more with your landing pages than just the sales funnels. 
That doesn't mean LeadPages doesn't support building funnels. It does allow you to create sales funnels. The only hard part is that it takes a wee bit more work and time.
There are 100+ templates to choose from in LeadPages. And the best part is that you can create your very own templates as well. If you want more templates, you can go premium and buy a few of them as per your will.
You can even perform split testing of your landing pages or track the performance using the analytics (integrated by default).
Talking about the editor at LeadPages, there are two versions – one for the beginners and one for the experts. 
This means that if you are a new user, you won't face any problem at all while building your very own landing pages. 
Talking about some of the highlights of LeadPages,
It features multiple editors, perfect for beginners as well as advanced users. 

The whole essence of LeadPages is the creation of beautiful landing pages, so you can count on that.

It's easy to integrate with email providers and webinar platforms.
(From $199/month)
InstaPage is a great alternative to clickfunnels, but it is a great alternative to LeadPages as well.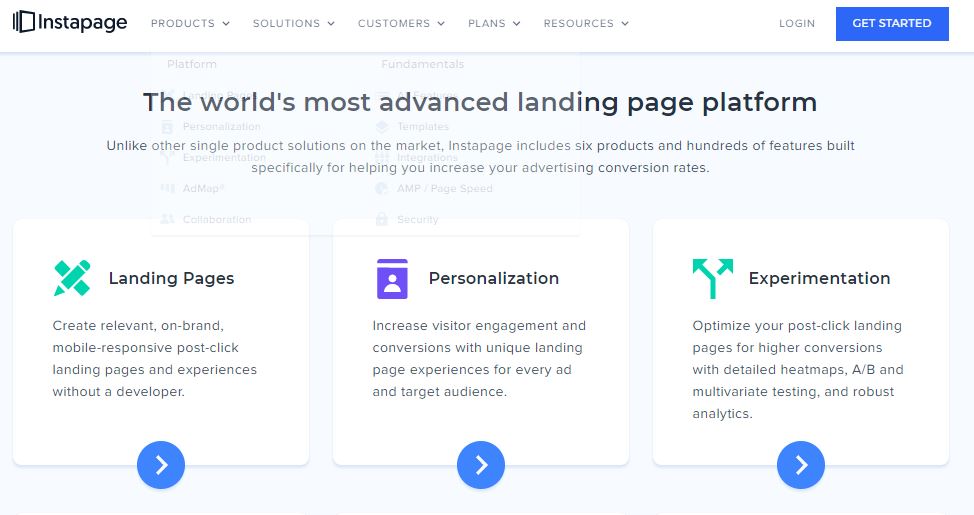 With InstaPage, you can design some of the most responsive and attractive landing pages and publish the same on your WordPress website with the help of the official InstaPage plugin.
One of the best features of InstaPage is that it has an easy-to-use and understand interface. 
InstaPage is even popular for its renowned heatmap feature that allows you to view all types of activities on your website. This helps you optimize specific areas of your site.
A common reason for marketers to depend on this platform is the availability of an amazing editor that helps you customize every single thing that you build on your pages.
Some of the most significant features of InstaPage are:
This platform features a drag and drop page building as well.

It has a built-in analytics tool.

Features about 200 templates.

Has an official WordPress plugin.

Heatmaps allow you to optimize your pages and discover ways to convert your viewers.
(From $39/month)
With Samcart you can build landing pages, sure, but that's not what Samcart is all about.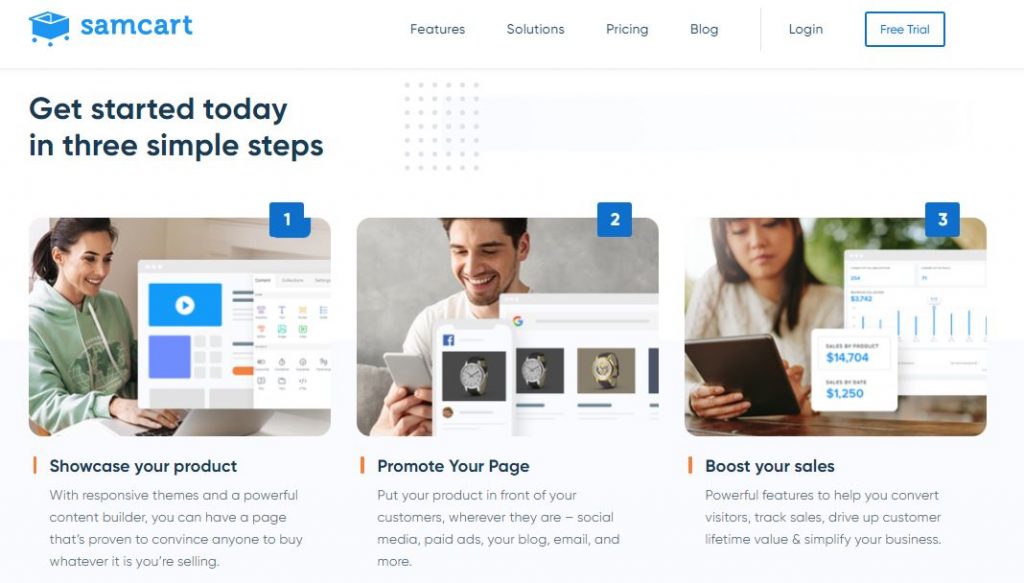 Samcart focuses more on helping you more with building some of the easiest shopping carts. If you are a small business owner, Samcart could be your go-to solution. 
Even if you want to build a membership site, you can resort to Samcart.
It's not specifically targeted towards sales funnels, but it could help you out with other things like cart transactions and checkout pages.
This means that the engagement part is something that you would have to take care of by yourself. But, it could play a big role in retaining the customers that are interested in your products.
For people who are trying to sell ebooks, digital downloads, and other physical products, Samcart could help you out with everything. 
(From $80/month)
If you want a great drag and drop page builder with a bunch of features and hundreds of templates, Unbounce is a great solution.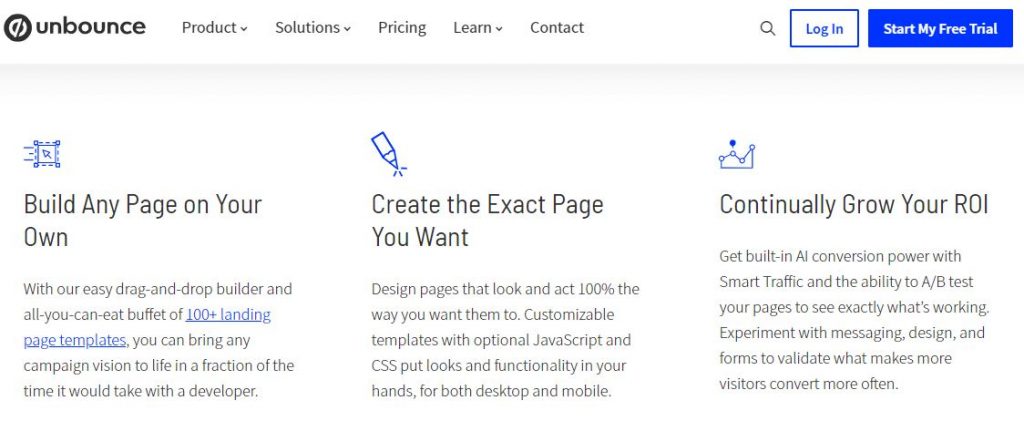 Unbounce is very much designed to work well with other tools you might already be used to for a while now. 
This is one of the main reasons why Unbounce is preferred over Clickfunnels because here, you aren't restricted to expensive tools.
However, you should also realize that there isn't a lot of customization or features that Unbounce actually has to offer. If you are okay to let go of those factors, you might actually like Unbounce since it allows you to design and optimize your landing pages in an easy way.
Just take a note of the fact that if you are using Unbounce, you might actually have to use a few other services with it as well.
Features of Unbounce:
The drag and drop builder of Unbounce is actually great and helps you to customize every part of your landing pages.

Unbounce could also be integrated with your e-mail and common analytic tools you might be used to.

It has about 125 templates that could be installed and used in a matter of a few seconds.
(From $19/month)
Thrive Themes is probably one of the best platforms that is a common go-to for marketers that want a little more control over their websites and the pages they build.

You can count this platform as the combination of a variety of useful and exclusive WordPress plugins fused into a single plugin that provides you almost the same features as that of Clickfunnels.
Even if you are a small business that just can't afford every feature of Clickfunnels, you can definitely try out Thrive Themes. 
If you want an affordable and permanent solution for your small business, Thrive themes could be your complete resort. 
Here are some of the highlights of ThriveThemes that it offers with the $19/month subscription.
Thrive Theme Builder – A visual theme builder for WordPress with drag and drop features.
Thrive Architect – A visual editor for WordPress to customize different areas of the pages on your website.
Thrive Leads – Create forms quickly on your website and collect information from users in just a few steps.
Thrive Quiz Builder – Create stunning quizzes on your site and take valuable feedback from your visitors.
Thrive Apprentice – Create online courses on your WordPress website and give a professional look to your venture.
Thrive Comments – Build and customize your very own comments section in your website with features like upvoting and downvoting.
There are a few more highlights of Thrive Themes and I am sure whatever need your marketing campaigns have, this platform could suffice it.
(From $67/month) 
No, I didn't repeat the number 10 twice by mistake. It is actually called 10minutefunnels and features an interesting concept that you, marketers, are going to love.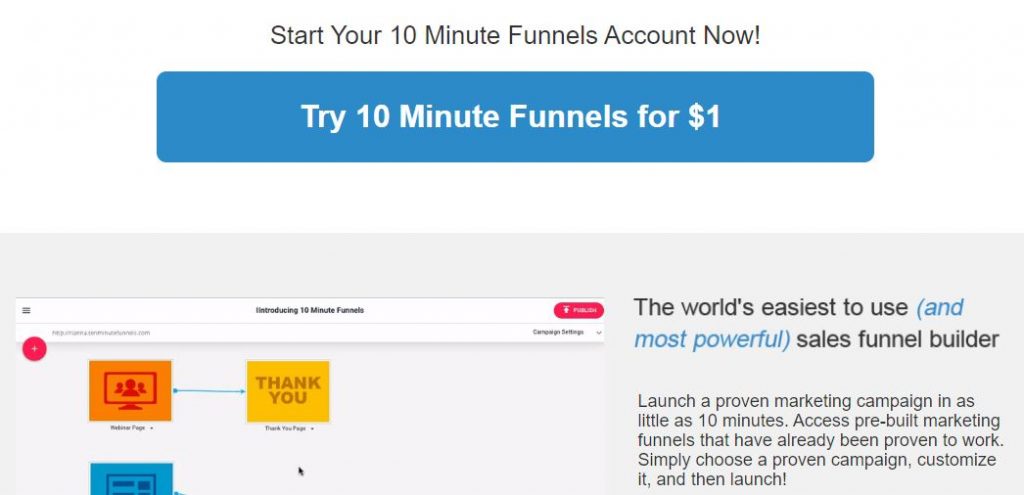 Instead of relying on the traditional methods of enticing customers to get to try out their platform, 10minutefunnels boasts a marketing funnel creation in under 10 minutes and that for just a dollar. Call it a marketing strategy or the truth, it still is an interesting concept.
10minutesfunnels might be a newer platform for sure, but it is a tough competitor of Clickfunnels.
If you are a beginner in the marketing field and are looking for an easy way to create responsive websites, build amazing web pages and feature some of the most effective marketing funnels, you might want to try out this alternative.
10minutefunnels has a lot more to offer besides just being a great page builder. You can create an effective marketing system that is mostly just seen on professional websites. And the best part? It is way more affordable than Clickfunnels or even different clickfunnels alternatives.
Here are some of the key highlights of 10minutesfunnels that would definitely interest you:
It has a more user-friendly interface than most of the other general clickfunnels alternatives.

You can build websites through drag and drop mechanism which is honestly far better than what you can see on most of the similar platforms.

Your website can have unlimited pages. That's right – UNLIMITED.

It has a built-in widget for analytics, SEO (preferably

on-page SEO

), social media links, shopping carts and a lot more.
With so many options at hand, it's obvious to get confused about picking the best alternative.
Here's a tip to choose the best alternative to clickfunnels.
Consider the following two factors – Cost and features.
Since I mentioned the pricing of every platform as well, match it against your budget. If it fits the budget, check out for the features. If the platform offers the features you are looking for, it's high time to sign up for it.
There are a variety of ClickFunnels alternatives. However, some of the most top-notch alternatives are BuilderAll, SamCart and Thrive Themes.
There are a bunch of alternatives to Clickfunnels. Some of the common options are:
BuilderAll

Kartra

Simvoly

Convertri

LeadPages

Instapage

Samcart

Unbounce

10minutefunnels

Thrive Themes
Believe it or not, ClickFunnels actually is one of the best marketing solutions. You can build your customized funnels in a matter of few minutes, so yes, it's definitely worth it.